Can Ajay Banga push World Bank to prioritise climate action?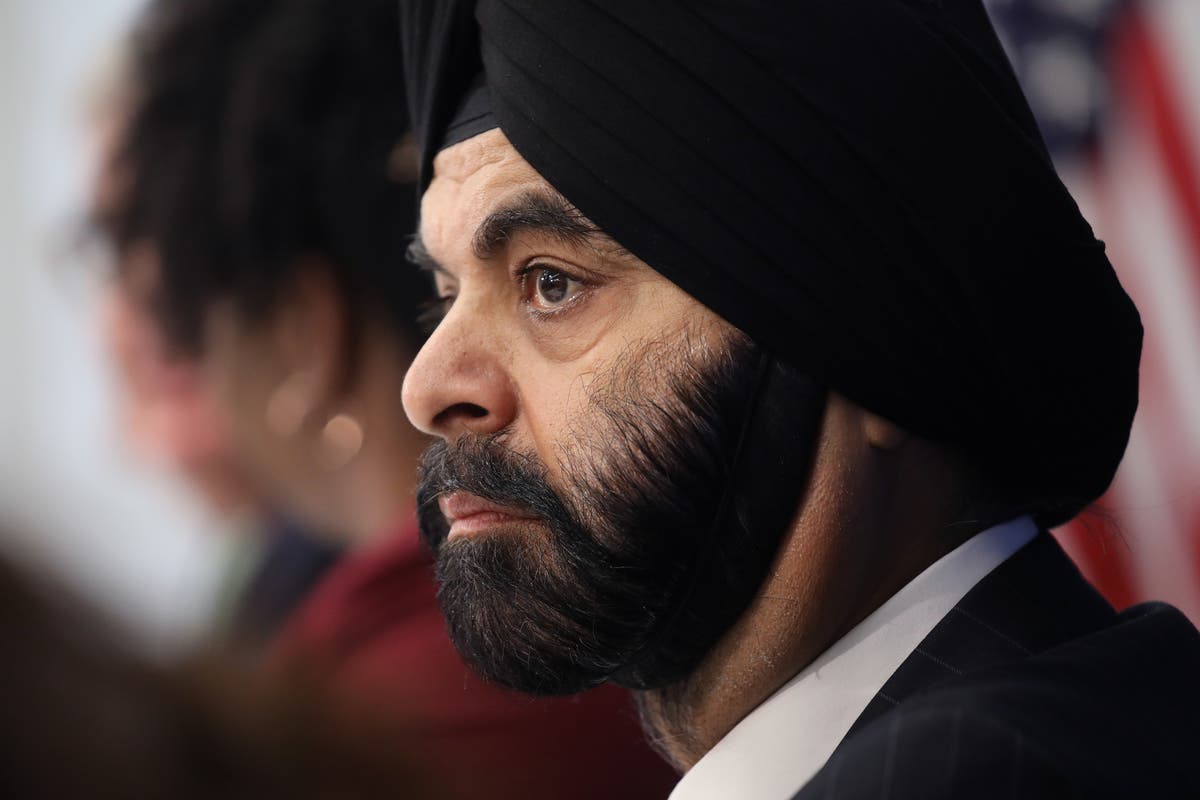 Ajay Banga, an Indian-American business leader, has been nominated by US president Joe Biden to be the next president of the World Bank amid calls for the multilateral development bank to prioritise climate action.
In a statement released by the White House announcing the nomination, US president Joe Biden said the former Mastercard executive "has critical experience mobilising public-private resources to tackle the most urgent challenges of our time, including climate change".
"Ajay is uniquely equipped to lead the World Bank at this critical moment in history," Mr Biden said in a statement, hailing the business executive's Indian roots and knowledge of the challenges facing developing countries and ability to mobilise private capital to tackle big problems.
The nomination comes after the resignation of World Bank's current chief David Malpass, an appointee of former US president Donald Trump. Mr Malpass sparked outrage last year when he refused to acknowledge that the climate crisis was real.
Mr Banga, 63, who is currently an advisor to General Atlantic's climate-focused fund BeyondNetZero, comes with extensive private sector experience and has served as the head of Mastercard apart from working with Kamala Harris on her central American projects.
If selected, Mr Banga will assume a crucial job at the 77-year-old institution that oversees billions of dollars of funding to developing countries with increasing pressure to better address the climate crisis and bridge the inequality gap.
As the urgency to tackle climate change grows, the need for financing in middle and low-income countries is also growing. The World Bank, which plays a crucial role in unlocking climate finance for poor countries, is facing increasing pressure to prioritise climate action. Countries like India have called on the multilateral lender to boost its lending capacity for climate financing in such countries.
Some estimates suggest that poor countries may require trillions of dollars annually by 2030 to combat climate change. Despite commitments made by richer countries, current climate finance falls significantly short of these needs.
The US, the World Bank's biggest shareholder, has traditionally been in charge of selecting the person to lead the institution and a US citizen is chosen for the job. European leaders choose the head of the International Monetary Fund (IMF). However, off late there have been calls by developing countries and international organisations alike to open up the process to incorporate more diversity. Hence, there can be more nominations.
Oxfam International said the next bank president should be chosen through a transparent global process. "The World Bank is not a US bank, a commercial bank, or a private equity firm. For a job of this stature, we need more than a tap on the shoulder from President Biden."
Mr Banga's nomination also does not come without any criticism. Jeff Hauser, who heads the progressive Revolving Door Project, demanded Mr Biden retract the nomination of the top official from a "rapacious international private equity firm" who had previously worked only in private sector firms.
"Neither private equity, nor MasterCard, nor Citigroup, nor PepsiCo, nor Nestle, nor Dow promote shared prosperity. They all do vastly more to exacerbate inequality than to fight it," he said in a statement.
The decision will lie with the World Bank board which expects to select the new president by May as Mr Malpass's term ends in June. The board said it is accepting nominations till 29 March.
Reuters quoted a senior US administration official saying they did not know if other countries would nominate candidates for the post but some countries have already extended their support for Mr Banga.
Christian Lindner, the finance minister of Germany, another major shareholder, said on Friday ahead of G20 finance leaders meeting in the Indian city of Bengaluru, that Berlin supports Mr Banga's nomination.
India is also expected to support Mr Banga's candidacy, according to Krishnamurthy Subramanian, the former top economic adviser to the Indian government who now serves as India's executive director at the IMF. "It's an elegant solution."
"I think the speed of the nomination, less than 48 hours after the WB board launched the process, reflects a desire to discourage any challengers and wrap it up quickly," Scott Morris, a senior fellow at the Center for Global Development and a former US Treasury official, was quoted by Reuters as saying.
Treasury Secretary Janet Yellen has earlier expressed confidence in Mr Banga's leadership and said she wanted to see the World Bank serve as a "force multiplier for good by setting the right agenda".