Heathrow boss says third runway must go ahead to protect economy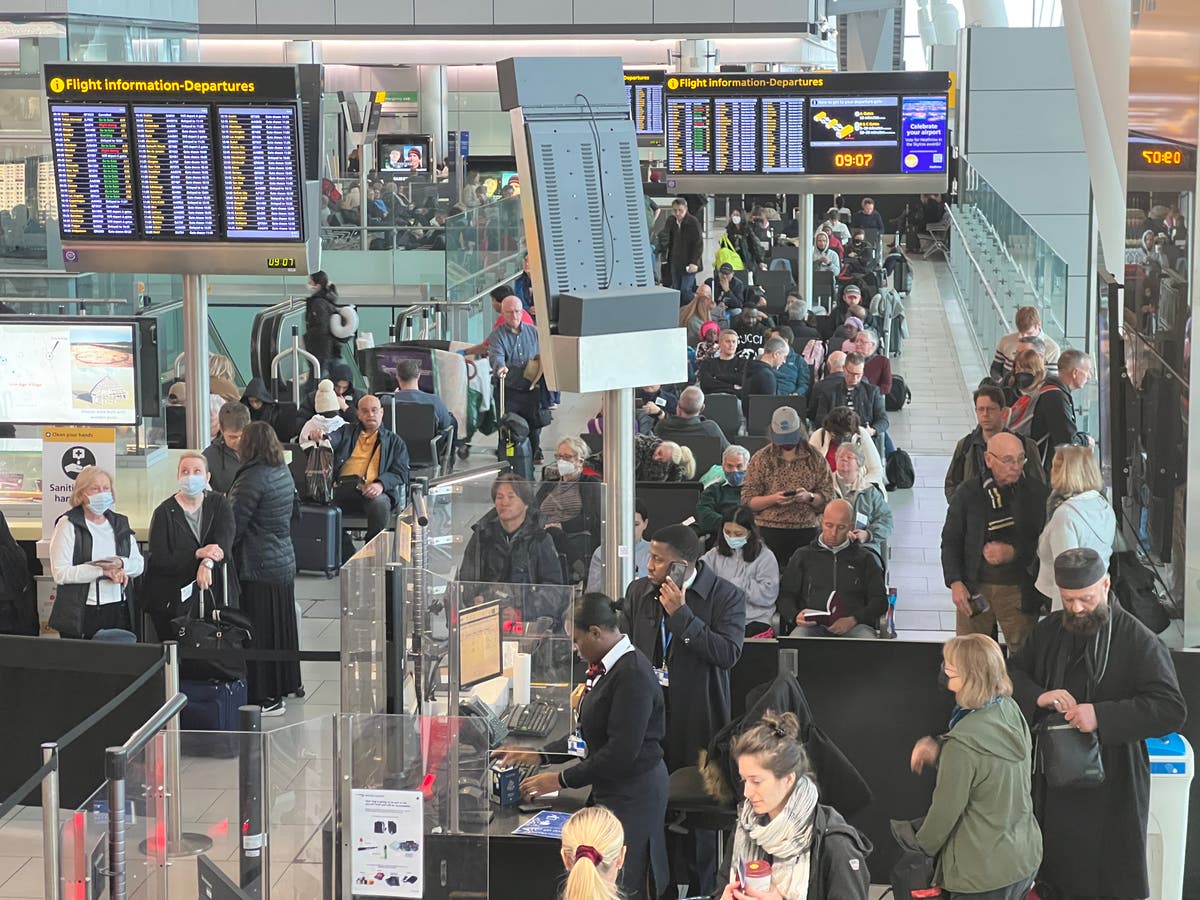 "Guaranteed flights" from all the UK regions, timed at the start and end of the working day, will be one benefit of expanding London Heathrow airport, the chief executive has said.
Speaking exclusively to The Independent, John Holland-Kaye said: "It's hugely important for the UK to have a world-class hub airport here. What I'd like to see is that we have guaranteed flights from all the UK regions, morning and evening, flying into Heathrow to connect onto global markets."
Heathrow is the most "slot-constrained" major international airport in the world. In 2015 the Davies Commission recommended a third runway should be added to increase capacity at Heathrow by more than 50 per cent.
But the issue is extremely controversial, with court cases and Covid – with the consequent collapse of demand due to travel restrictions – delaying expansion plans.
At present Heathrow has links from only two English airports, Manchester and Newcastle; four Scottish airports, Aberdeen, Edinburgh, Glasgow and Inverness; and Belfast City airport in Northern Ireland.
Many other locations, including Newquay, Liverpool, Leeds Bradford, Teeside, Prestwick and Belfast International, have previously been connected with Heathrow. But the trend over time is to reduce UK connectivity to exploit valuable slots on more lucrative routes.
Amsterdam Schiphol is connected with far more UK airports than is Heathrow.
Last week Willie Walsh, former British Airways CEO and now director-general of the International Air Transport Association (Iata), said slots that had become available following the collapse of Flybe should go to Loganair, the Scottish airline, for domestic flights.
Mr Holland-Kaye added that the Covid crisis had underlined the importance of expansion.
"During the pandemic, we saw just how important it is that the UK is independent in terms of managing its trading routes," he said.
"We saw the opportunity of opening up new routes into India that had just been unable to come in because of the lack of slots at Heathrow.
"We also saw the risk of depending on connections to [Amsterdam] Schiphol or Paris Charles de Gaulle or Frankfurt because the continent was cut off three times during the pandemic and the UK cannot have its supply chain dependent on overseas hubs that can be cut off for a whole number of reasons.
"It's absolutely vital for our trading that we have a global hub here and we will get on and deliver that as soon as we are able to."
But some opponents to the third runway say more use should be made of other UK airports so that travellers do not need to change planes at Heathrow.
Paul McGuinness, chair of the No 3rd Runway Coalition, said: "The Airports National Policy Statement is now five years out of date, and Heathrow's expansion plans remain incompatible with our carbon reduction commitments.
"The time has come for a National Aviation Strategy, to kibosh once and for all the prospect of regional economic opportunity being overlooked by Heathrow's narrow economic self-interest."
The government has signalled a boost to domestic flying by cutting tax.
From 1 April, Air Passenger Duty on flights within the UK will halve from £13 to £6.50.
Mr Holland-Kaye also offered some advice to his counterpart at Aeroports de Paris ahead of the 2024 Olympics in the French capital – based on Heathrow's experience during London 2012.
"Make sure that you allow for more bags being taken by the athletes when they leave than when they arrived," he said.
"What we found was that on average, they had one more bag to check in when they left and that was because they tend to take their duvet with them when they leave – along with their medals and other souvenirs."
The Heathrow chief executive has announced his intention to step down this year. A successor has yet to be named.