Here are five things to watch out for on Hollywood's biggest night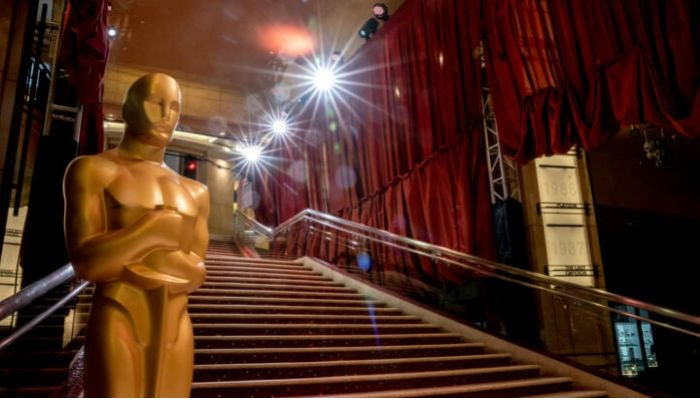 The 95th Academy Awards take place Sunday, with wacky multiverse movie "Everything Everywhere All at Once" leading the nominations with 11.
Late night funnyman Jimmy Kimmel returns to host the Oscars for a third time. His first stint ended with the infamous mix-up that saw "La La Land" accidentally named best picture in 2017.
Assuming the correct envelopes are handed out this year, here are five other things to watch out for on Hollywood's biggest night:
Rihanna and 'RRR' but no Gaga
All five best song nominees are invited to perform live at the Oscars.
That means pop superstar Rihanna will grace the stage, just weeks after her long-awaited Super Bowl halftime show, at which she revealed she is pregnant.
She will sing "Lift Me Up" from "Black Panther: Wakanda Forever," while Talking Heads frontman David Byrne and "Everything Everywhere" star Stephanie Hsu will perform "This Is A Life."
Perhaps the biggest spectacle will be "Naatu Naatu," the infectious showstopper from India's "RRR," which has recently had audiences dancing in their seats in Hollywood movie theaters.
Sadly, there will be no Lady Gaga. Nominated for "Hold My Hand" from "Top Gun: Maverick," she is unavailable as she is "in the middle of shooting a movie," Oscars producers say.
Lenny Kravitz will bring further stardust to the gala, performing music to accompany the annual "In Memoriam" tribute.
Best actress history?
This closely fought category is likely to buck tradition and break records.
If Michelle Yeoh ("Everything Everywhere") beats Cate Blanchett ("Tar"), she will become the first Asian woman to claim the best actress prize.
Should Blanchett win, she will become just the eighth actor in history to win three Oscars.
Meanwhile, Andrea Riseborough would surely be the most unlikely ever winner, having earned her nomination for obscure indie film "To Leslie" thanks to a controversial campaign by celebrity pals of the film's cast and crew.
Finally, there is the question of who presents the award.
Traditionally, it is the previous year's best actor winner.
Given Will Smith is serving a decade-long Oscar ban (see below), that doesn't seem very likely.
Slap chat
Just as it is impossible to write an Oscars preview this year without mentioning "The Slap," expect the ceremony to address the incident.
For those living under a rock, Will Smith assaulted Chris Rock on stage during last year's Oscars for cracking a joke about his wife.
Rock himself got the ball rolling last weekend, joking in a live Netflix special that he recently rooted for the slave master who beats Smith's character in his latest movie "Emancipation."
Oscars organizers say the plan is to "acknowledge it" — presumably in Kimmel's opening monologue — and then swiftly "move on."
But will the various presenters and winners be able to keep Smith's name out of their mouths?
Marvel-ous Bassett
Will Angela Bassett "do the thing?"
Before she became the subject of a viral meme — courtesy of Ariana DeBose's cringeworthy rap lyrics at the BAFTAs — Bassett was best known for her enviable acting CV.
With acclaimed films like "What's Love Got to Do with It" and "Boyz n the Hood," to name a few, it is surprising she has never won an Oscar.
It would be even more surprising if her first win came for a superhero movie.
But that appears a likely outcome, after her role as Queen Ramonda in "Black Panther: Wakanda Forever" earned the first-ever Oscar acting nomination for a Marvel film.
She will have to see off Jamie Lee Curtis ("Everything Everywhere") and Kerry Condon ("The Banshees of Inisherin") to pull off the win.
'All Quiet' makes noise
Karl Marx said history repeats itself — the first time as tragedy, the second as farce.
He probably wasn't talking about the Oscars, but if "All Quiet on the Western Front" wins best picture, it will be the first film to essentially win Hollywood's biggest prize twice.
The original, English-language screen adaptation of Erich Maria Remarque's anti-war novel won top honors way back in 1930, at just the third-ever Oscars.
Should this year's German-language version win, it will be Netflix's first best picture win — just a year after Apple pipped it to become the first streamer to collect Hollywood's biggest prize.
If there is any film that can stop the "Everything Everywhere" juggernaut on Sunday, it's probably this one.