Kate Middleton wins hearts during her outing in Wales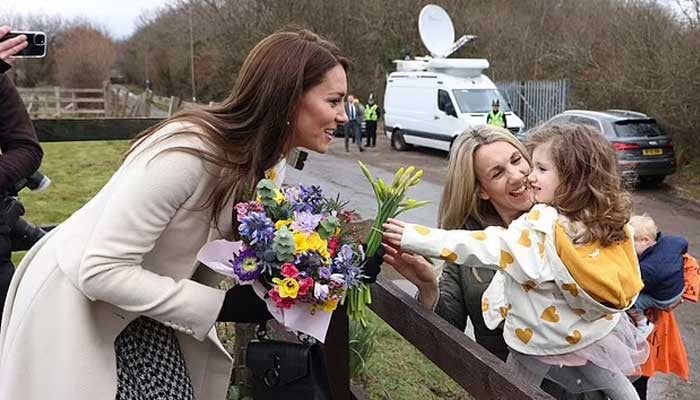 Kate Middleton put on a stylish display as she arrived in Wales alongside her husband Prince William on Tuesday, attracting massive applause from fans for her sweet smile and grace.
The Princess of Wales, who's known for her love of high street brands, looked gorgeous in designer pieces as she rocked white polo neck and a cream coat with a patterned houndstooth skirt, which is undoubtedly one of the royal's favourites as Kate regularly opts for different pieces featuring the pattern.
She wore a glamorous make-up with a pink lipstick and a dark smoky eye to elevate her look. William's sweetheart swept her famous hair behind her shoulders.
Kate won hearts with her people friendly gestures during her outing with Prince William in Wales. The couple met with the crowd waiting to have a glance of their favourite royals.
The royal mother-of-three was all smiles as she exchanged few words with a young Welsh mother and toddler and accepted a bunch of daffodils from them.
William and Kate visited the Brynawel Rehabilitation Centre to hear first-hand about the work they do to support those struggling with the effects of drug and alcohol addiction.