Will Smith recalls 2022 Oscars slapgate in hilarious Tik Tok video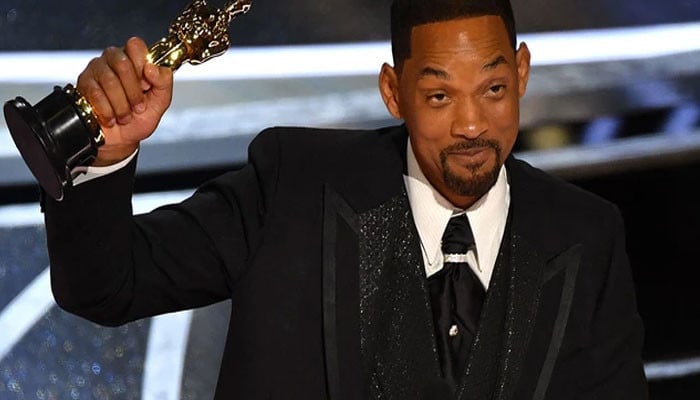 Will Smith recalled the 2022 Oscars slapgate in a new hilarious Tik Tok he shared on Tuesday. 
The 54-year-old actor Smith reacted to a Tik Tok in which the user encouraged the people to ask objects what they think of their owners.
He turned to the social platform and shared a video which appears as a fun poked at his actions at the Oscars last year, when he slapped comedian Chris Rock.
The video came out less than a month ahead of this year's Oscars ceremony. In the video a TikToker is heard saying, "I'm gonna tell you something, expletive crazy. This is literally – it sounds insane, but it will change your life, and by change your life, I mean it will make your life so much more interesting and fun."
"Did you know, you can pick any object, look at it and ask it what it thinks of you. So, for example, you can pick up a pen and ask it how it sees you or what it thinks of you, and you will get an answer in your mind from your intuition," she further says.
The Pursuit of Happiness actor listened to the advice intently and also nods after listening to the TikToker's words. 
He then smoothly picks up his Oscar trophy, with a concerned look on his face, and then turns wordlessly to the camera. The video concludes there.
Soon after the Tik Tok was shared, the followers flooded the comment section, with most of them saying he has moved on since last year's Oscars controversy.
"I'm glad you're back! No more apologies PLEASE," commented one user. "That's the Will Smith that everybody loves. Keep pushing man, I support you," said another.
For the unversed, last year's Oscars ceremony was highlighted because of Will Smith's actions. 
When the comedian Rock compared the actor's wife Jada Pinkett Smith, who suffers from alopecia, to Demi Moore's bald character 'GI Jane', prompting the slap from Mr Smith.
"Keep my wife's name out of your expletive mouth," the actor had shouted after returning to his seat.
Later that night Will Smith won the Best Actor for his role in King Richard and even received a standing ovation from the audience.