2023 Oscars: Watch scenes of the best actor nominees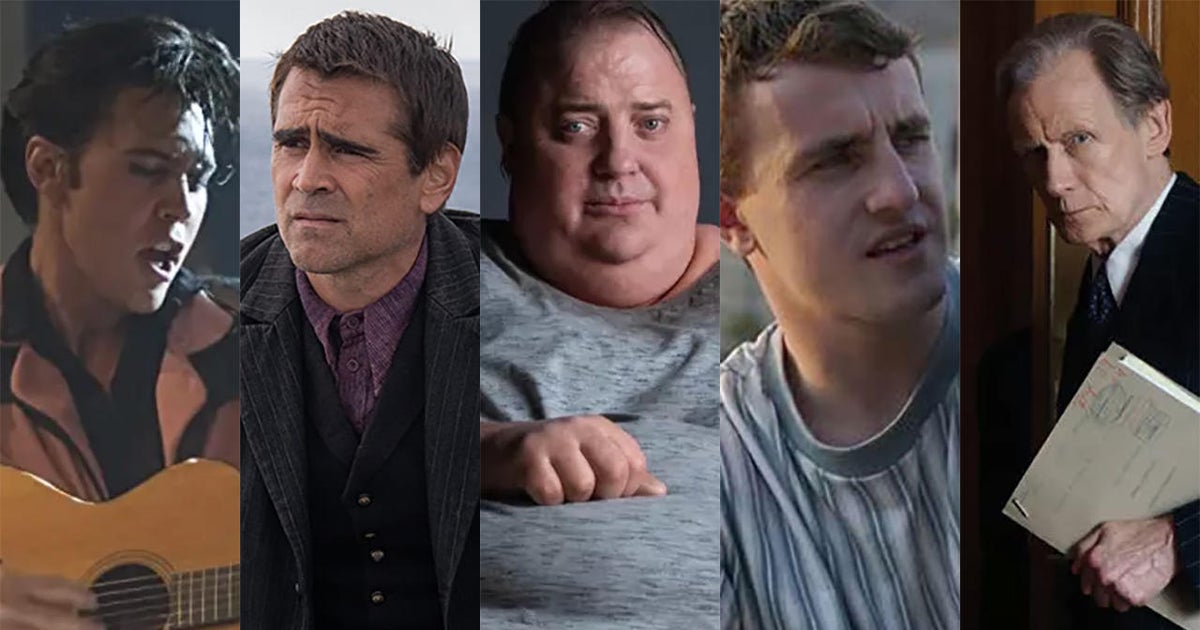 Watch scenes from the performances nominated in the category of best actor at the 95th annual Academy Awards, as well as interviews with the stars at the links below.
The Oscars will be presented on March 12.
---
Austin Butler, "Elvis"
Austin Butler won the BAFTA and the Golden Globe for his stirring performance as Elvis Presley in Baz Luhrmann's biopic. Butler, who last appeared in "Once Upon a Time in Hollywood," not only captures the aura of the King of rock 'n' roll; he also sang most of his performance, only resorting to lip-syncing Presley recordings in the final scenes, as the aged, overweight singer finishes his career at a Vegas casino.
In this scene, Elvis, who'd just released a hit record, makes his first appearance, in the "newcomer" spot, on the "Louisiana Hayride" radio program, to sing "Baby Come Back." The audience response is understandably electric, of the high-voltage variety:
Presley bends to the wishes of his manager, TV producers and record execs to sing a more homogenized, more palatable pop – something without "Negro rhythms" – leading to a humiliating television performance dressed like a butler, singing to a basset hound. But he pushes back; no more "New Elvis" for him.
In this clip, he rejects the entreaties of his manager, Col. Tom Parker, and tells an audience they're going to hear the "Real Elvis," showing he can sing "Trouble" and give it at the same time:  
"When you look at Elvis as this iconic superhuman figure, it's hard not to feel small," Butler told "Sunday Morning." "And so, for me, my task was finding as much humanity and similarity, and the realness, as I could."
This is Austin Butler's first Academy Award nomination.
Austin Butler and Baz Lurhmann on filming "Elvis" ("Sunday Morning")
"Elvis" is playing in theaters, available on demand and home video, and is streaming on HBO Max.
---
Colin Farrell, "The Banshees of Inisherin"
Colin Farrell has contributed memorable performances, often as troubled and sorrowful characters, in such films as "The New World," "Minority Report," "Crazy Heart," "In Bruges," "Miss Julie," "True Detective," "The Lobster," and "After Yang." In "The Banshees of Inisherin," he reteams with writer-director Martin McDonagh and co-star Brendan Gleeson in a tale mixing humor and heartbreak, about two men on an island off the Irish coast, whose friendship is inexplicably severed.
Pádraic (Farrell) cannot understand why his longtime find, Colm, is no longer interested in just sitting and chatting with him. In this scene he talks with his sister, Siobhán (Oscar-nominee Kerry Condon), about the estrangement:
Despite having turned his back on Pádraic, Colm silently comes to his aid after Pádraic has been slugged by an arrogant and abusive policeman (Gary Lydon). Colm's empathy breaks through the wall he has erected around himself, with the hazard that it will give Pádraic false hope in rekindling their friendship:
"People have said to me that 'Banshees' just floored them, just took them days, and they've been a bit haunted by it," Farrell told "Sunday Morning."
The critical and popular reaction to the film, he said, has been "very humbling, yeah, because I've done plenty of things that people haven't connected to. You don't always go to work and create stuff that people connect to. It's not a science. If we knew how to get it right every time, every film would work on every level. It would work for the audience, it would work for the critics, and it would work commercially. That's magic. That's money in the bank, you know? You can't expect that all the time. So, the fact that it's arrived on this one is fairly cool!"
"The Banshees of Inisherin" is Farrell's first Academy Award nomination.
Colin Farrell, Brendan Gleeson on "The Banshees of Inisherin," friendship ("Sunday Morning")
Extended interview: Colin Farrell, Brendan Gleeson ("Sunday Morning")
"The Banshees of Inisherin" is playing in theaters, available on demand and home video, and streaming on HBO Max
---
Brendan Fraser, "The Whale"
Brendan Fraser was a familiar, friendly presence in box office hits beginning in the 1990s and 2000s, from "The Mummy" franchise to "Encino Man" and "George of the Jungle," and the critically lauded "Gods and Monsters." He's earned his first Academy Award nomination for an entirely different kind of film: "The Whale," from director Darren Aronofsky, is the story of Charlie, a man living with obesity and trying to right a few wrongs in his life. In what may be the most physically demanding role of his career, Fraser was fitted with makeup, latex and prosthetics to inform his performance as a 600-pound man.
"It has us take a look at someone who we would otherwise just dismiss," he told "Sunday Morning." "I think this film has the ability to change hearts and minds about how we perceive those who live with obesity."
In this scene, Charlie talks with his nurse, Liz (Oscar-nominee Hong Chau), about the death of her brother (and his lover):
People are amazing, but also deeply complicated. Charlie, an English professor, has hidden himself from his students, leading classes virtually without a webcam, so that he would be invisible – the extent of his ballooning weight not revealed to anyone. After demanding honesty from his students in their writing, he decides it is time for him to be honest as well:
Brendan Fraser on his comeback performance in "The Whale" ("Sunday Morning")
"The Whale" is playing in theaters, and is available on demand.
---
Paul Mescal, "Aftersun"
In Charlotte Wells' "Aftersun" (a prize-winner at last year's Cannes Film Festival), a 30-year-old father, Calum (Paul Mescal), takes his 11-year-old daughter, Sophie (Frankie Corio), on vacation to Turkey. The film, which is strong in ambiguity about its characters, is comprised of fragments of scenes that mix timelines and memories of the father and daughter.
In this scene Sophie helps mark Calum's birthday, which segues to a moment where he breaks down sobbing:
In this scene late in the film, annotated with Wells' script, Calum pleads with his daughter to join him on the dance floor; her experience is crossed with impressions by an adult Sophie of her dad:
Mescal described his take on the character in an interview with Hollywood Reporter: "He's with the person that he loves most in the world. And he's had a great day with her, and something's not adding up. … He doesn't know what it is in his brain that's not making [happiness] happen. And that's scary and that's confusing."
Mescal, who earned an Emmy nomination for "Normal People," and who previously appeared in "The Lost Daughter," received nominations from the British film academy, the Film Independent Spirit Awards, and numerous critics groups for his performance in "Aftersun." This is his first Academy Award nomination.  
"Aftersun" is playing in theaters, and is available on demand and home video.
---
Bill Nighy, "Living"
In a 2015 interview with "Sunday Morning," Bill Nighy said that his interest in acting initially came from his interest in a girl who was going to attend drama school. "She could have said 'astronaut,' and I would probably have given that a shot," he said. "She said, 'You could be an actor.' And I had no idea what that meant."
And how did he find acting? "It terrified me! I thought, 'In a minute, I'll stop.' Every time I finished a job, I swore that I would never put myself through that kind of humiliation ever again."
But he continued, earning plaudits for his roles on stage in "Pravda," "Betrayal," "The Seagull" and "Skylight," and in films such as "Love Actually," "The Hitchhiker's Guide to the Galaxy," "The Girl in the Café," "The Constant Gardener," "The Best Exotic Marigold Hotel," and "Emma." Even under digital makeup, he brought humanity to the squid-faced Davy Jones in the "Pirates of the Caribbean" films.
In "Living," written by Oscar-nominee and Nobel laureate Kazuo Ishiguro (and adapted from the Akira Kurosawa classic "Ikiru"), Nighy plays Williams, a British civil servant with cancer. He takes this terminal diagnosis as an opportunity to change the course of his life, and to leave behind a legacy that will have given a purpose to his existence.  
In this scene, where others see a wasteland – a bombed-out remnant from the war – Williams sees a children's playground:
In this scene, Williams meets up with Margaret (Aimee Lou Wood), a former colleague, and – in a move very unlike him – asks for her company at the pictures:
This is Bill Nighy's first Academy Award nomination.
Web extra: How Bill Nighy learns his lines ("Sunday Morning")
"Living" is playing in theaters, and is available on demand.
---
Also: 
2023 Oscars: Watch scenes from the best picture nominees
2023 Oscars: Watch scenes of the best supporting actress nominees
2023 Oscars: Watch scenes of the best supporting actor nominees
---
See more: