Everything Everywhere All at Once director got his Oscars tux from unclaimed suitcase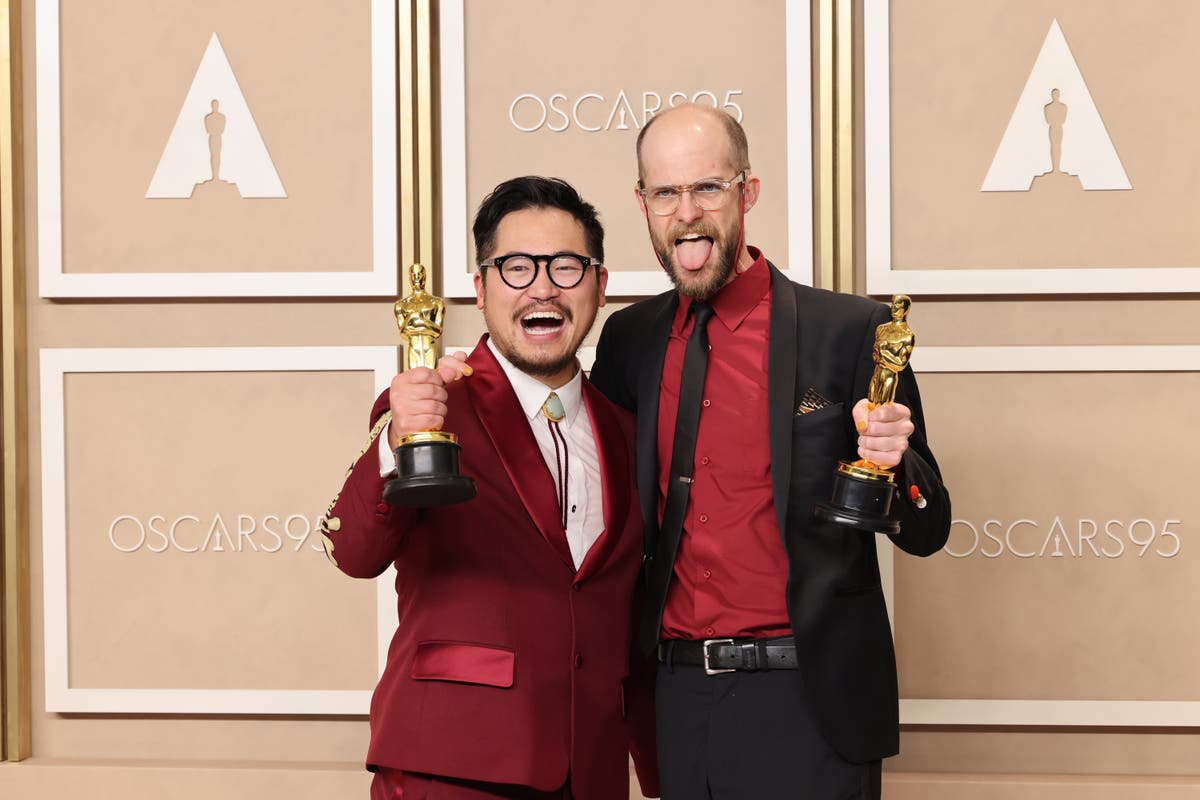 Everything Everywhere All at Once director Daniel Scheinert opted for an unconventional outfit for the Oscars, which included a tuxedo that was found in an unclaimed plane suitcase and later resold by a local thrift store.
Scheinert's mother, Becky Scheinert, spoke about her son's outfit at the star-studded event during a recent interview with Albama's local news station, AL.com. For the awards ceremony, Scheinert wore a red button-down shirt under his black suit and tie, along with black pants and a multi-coloured pocket square. He was accompanied by his mother, who wore a blue dress with the word "mom" embroidered on it.
During her interview with AL.com, Becky said that as he was deciding what to wear, Daniel got his black tuxedo suit from an Unclaimed Baggage store, which sells clothing from suitcases that have not been claimed at airports, in Scottsboro, Alabama.
Becky, who raised her son in Birmingham, also explained that while Daniel bought the outfit several years ago for future red carpet events, it still suits him quite well. "Lo and behold, it fits his very tall, very skinny frame," she said.
As noted on its official website, the unclaimed bags are not "deemed truly orphaned" until after they got through "an extensive three-month search". Not only does the store have "five decades of experience processing large volumes of one-of-a-kind items," but Unclaimed Baggage has also purchased "agreements for unclaimed items with all domestic airlines and other travel and transportation companies".
After confirmed that the bags are unclaimed, the company examines the contents in the luggage, before deciding which items can be resold, repurposed or recycled. The secondhand store also noted that out of everything found, only "about 1/3 of all unclaimed items [they] receive can be sold", allowing them to "stock approximately 7,000 discounted items each day".
While speaking to AL.com, Becky poked fun at her son for some of the outfits he's worn at marquee events, like this year's Golden Globes and the SAG Awards.
"He's always been articulate," she explained. "I still make him crazy by telling him he says 'like' too much. A mother always nitpicks. But I think he's done very well. Now, he and I will continue to arm-wrestle and argue about what he wears."
At Sunday's awards ceremony, Everything Everywhere All At Once won a total of seven Oscars, with Scheinert and his co-director, Daniel Kwan, winning the award for Best Director.
The film also won for Best Picture and Best Writing (Original Screenplay), with writing credits belonging to Scheinert and Kwan. Three of the film's stars took home awards, including Michelle Yeoh for Best Actress in a Leading Role, Jamie Lee Curtis for Best Actress in a Supporting Role and Ke Huy Quan for Best Actor in a Supporting Role.