Another atmospheric river takes aim at California as the state grapples with snow shutdowns and risk for flooding grows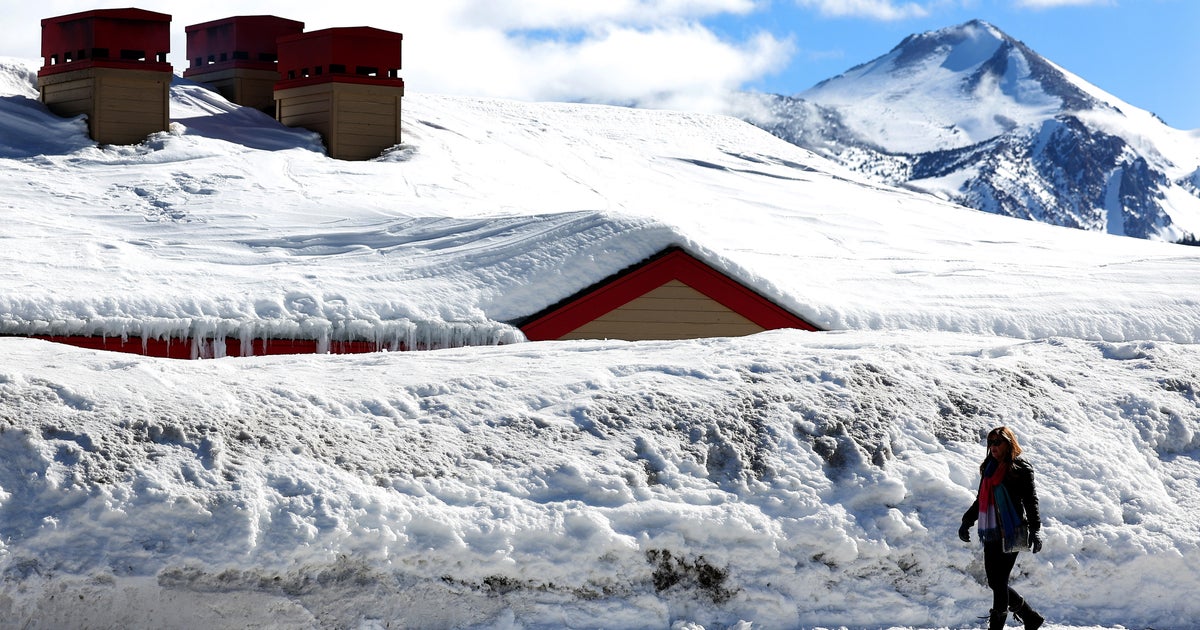 California was plagued by a devastating drought for months. Now, after a series of atmospheric rivers and winter storms, the state is being thrashed by significant amounts of snow and rain. 
And it's about to get more intense. 
Back-to-back winter storms have left many areas throughout the state almost totally buried in snow, forcing many residents to go on arduous hikes to secure basic needs, leaving avid hikers stranded and even shutting down Yosemite National Park. The Weather Channel reports that a storm system will continue to dump more snow through Wednesday before an atmospheric river merges into the region on Thursday.
"[The winter storm] will also get extra fuel by tapping into a long plume of deep moisture known as an atmospheric river," The Weather Channel said. "In this case, the ribbon of moisture will stretch over 2,000 miles long, from near Hawaii, what meteorologists often call the 'Pineapple Express.'" 
The National Weather Service has warned that the combining atmospheric river and winter storm system will lead to heavy rain and "high snow levels."
"This will be a warm storm system with rain falling on existing snowpack up to 8,500 feet, with the highest snow levels expected in Central California," the agency said. "The combination of heavy rain and snowmelt may lead to flooding." 
Areas in elevations below 5,000 feet are expected to see the most snowmelt, while waterways in the "western foothills of the Sierra Nevada will be most vulnerable to flooding." Higher elevations will also face issues, as they are expected to see "very heavy snow" that could make traveling difficult. 
Most of California is at risk of excessive rain in the coming days. According to the Weather Prediction Center's outlook, there is a moderate risk of excessive rainfall in Central and Northern California starting Thursday because of the atmospheric river, which the agency says will be "strong" and will intensify through Friday. 
"Snow levels will be much higher than recent storms given the tropical moisture source in play, quickly rising to about 8,000 feet," the service said, adding that the high amounts of snow will also likely lead to even more rain. "…This means all coastal ranges and much of the Sierra foothills will receive heavy rain on top of snow, increasing the threat of rapid runoff due to snowmelt."
Through Friday night, the storm is expected to create between 6 to 8 inches of rain through the Central California coast and Sierra Nevada, the service said, and many areas – from Bakersfield to north of Redding – are under flood watches. 
The Weather Channel warns that there are "several concerns" related to the incoming weather. 
"Much of the snow cover in lower elevations could melt as the warmer air and rain move in. That water released could flood smaller rivers, creeks and streams," TWC said, adding that the rain may not melt deeper snow at higher elevations, but could further stress infrastructure that's already buried in snow and could also lead to flooding because there may not be as much land area for the incoming precipitation to drain.  
Many cities have preparations underway for the barrage of precipitation. 
Officials in Monterey County, just south of San Francisco, have made sandbags available to residents who live near waterways at risk of flooding. The county's emergency officials have also urged people in the Big Sur area to have at least two weeks worth of "essential supplies" in preparation for this week's atmospheric river and winter storm. 
The California Governor's Office of Emergency Services said Tuesday that there are seven shelters in six counties available for those who are expected to be impacted by the income deluge.