Venice canals run dry as lingering weather system mires tides, and Alps snow shortage fuels concerns for Italy's summer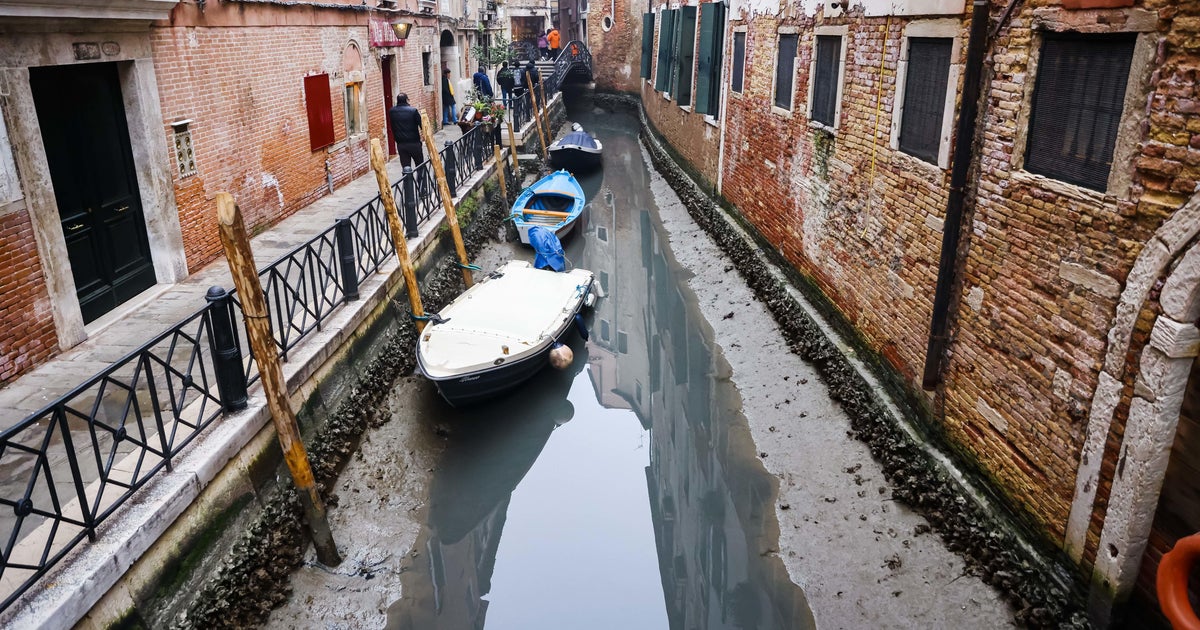 Rome — Venice has long been known for its perennial flooding, but now it's facing the opposite problem: A long stretch of atypically low tides have left the ancient city with low water and dry canals, making many of its famous waterways unnavigable for the iconic gondolas and other boats that ply its waterways.
While Venice's water woes are being blamed on a high-pressure weather system that has lingered for weeks over Western Europe, they come as environmental groups warn the Alps have received less than half of their normal snowfall this winter, prompting concern Italy could face another summer of dry rivers. 
Images from the lagoon city show some canals reduced to muddy pits, with awe-struck onlookers perched above on bridges.
Italian environmental association Legambiente sounded the alarm earlier this week, warning the Italian Alps are currently packing about 53% less snow compared to the average over the last 10 years. That's worrying, as snow is an important source of water in the spring and summer, when it melts and flows downstream to help ensure water supplies in the months when they're most needed.
Alpine snow is Italy's most important water reserve. Meltwater supplies the Po River basin, which runs through the most populous region of Italy as well as its most agriculturally productive.
The Po, Italy's longest river, runs from the Alps in the northwest to the Adriatic Sea, but it currently holds 61% less water than normal at this time of year, Legambiente added.
Nationwide, the snow deficit stands at around 45%, according to the group.
Last July, Italy suffered its worst drought in 70 years and declared a state of emergency for areas surrounding the Po.
For more than two weeks, an anti-cyclone weather system across western Europe has brought mild temperatures more typical of the late spring than mid-February.
Venice is well-known for its regular flooding, called "aqua alta," or high water, brought by the rising and falling tides.
Extreme flooding can completely submerge ground-floor businesses, homes and pathways, making it impossible to walk down the city's alleys. The flooding can even make water levels too high for boats to pass beneath bridges.
But the same tidal changes can also produce "acqua bassa," or low water, as they have now. Environmental scientists warn that climate change has exacerbated both high and low water occurrences.
The extreme low water can also cause severe damage. The city is buttressed by millions of wood and brick pylons, which, so long as they remain covered by water, are protected from the corrosive power of oxygen.
Extreme low-water events remove that protection and could lead to serious structural damage.
Some desperately needed precipitation is forecast over the next week in Venice and the surrounding area.