After trailblazing 20-year career, Indian tennis superstar Sania Mirza plays her final match | CNN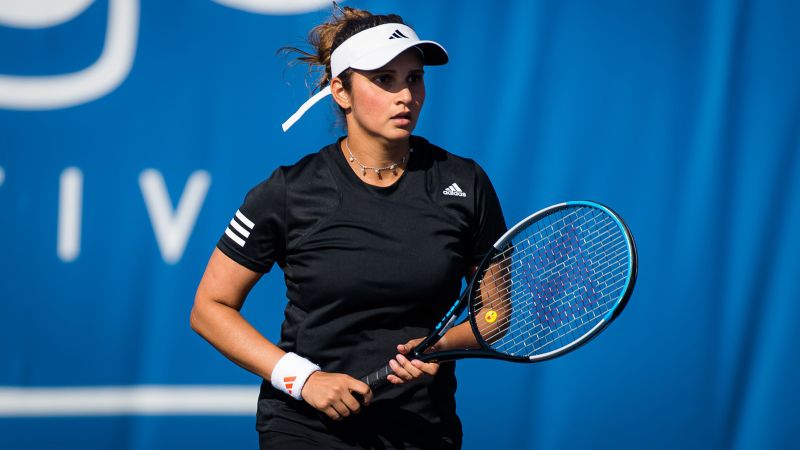 CNN
 — 

It's never easy to know when to say goodbye to a professional career spanning 20 years, but six-time grand slam winner and tennis trailblazer Sania Mirza says her retirement this week is very much on her "own terms."
The 36-year-old Indian star played her final professional match at the Dubai Duty Free Tennis Championships Tuesday, where, along with doubles partner Madison Keys she lost to Veronika Kudermetova and Liudmila Samsonova 6-4 6-0. Mirza had previously announced her retirement earlier this year.
"I feel a lot of gratitude today. I'll still be around tennis. It's just not competing," Mirza told reporters.
The star, mother to four-year-old son Izhaan, also plans to mentor the women's Royal Challengers Bangalore cricket team.
According to the team, Mirza will "guide our women cricketers about excelling under pressure."
"The whole concept of me being there has nothing to do with cricket," Mirza told the WTA website. "It actually has to do with the mental aspect of things with these younger girls.
"They've never been in positions where they've had careers, so much money, millions riding on them. Many of them haven't been on TV, haven't done ads, shoots. It's so easy to get distracted from that stuff. It's also very easy to tense up and feel the pressure because there's so much expectation of you."
Former world No.1 Victoria Azarenka told the WTA website that what Mirza had done for India, "for the region here, is absolutely remarkable."
"Little girls who didn't really have a role model before now can see what's possible," added Azarenka. "I think that is priceless. That's going to be her legacy."
After turning pro in 2003, Mirza became the first Indian woman to win a WTA title in 2005 at her hometown competition, the Hyderabad Open.
The right-handed Mirza excelled in singles, reaching a career-high No.27 before specializing in doubles, winning the mixed doubles at the French Open in 2012 and the US Open two years later.
After pairing with Swiss Martina Hingis in 2015, Mirza won three straight majors, securing victories at Wimbledon and the US Open, and the Australian Open in 2016.
In 2015, she rose to No.1 in doubles and became the first Indian woman to hold the No.1 ranking on the WTA Tour, and was year-end doubles world No.1 for both 2015 and 2016.
When Mirza was young, people would often express their disapproval of her playing tennis to her parents.
"People came up and said, 'Aren't you wasting your money, don't you think she should become a doctor, don't you think you should put all this money in educating her?'" Mirza told CNN in 2015.
"When I used to say, 'One day I want to play Wimbledon,' it was treated as a joke because it hadn't happened before.
"Sport always teaches you that no matter how many odds are against you, you can come through them. My life is a perfect example … of what it means to come out of the odds. When I started to play tennis, not many people believed that sport could be a profession for a girl from Hyderabad.
"Lots of people (say to me) all the time, 'You're the first woman to do this, you're the first Indian to do this – man or woman,'" said Mirza.
"That's not something I consciously think of every time I'm stepping on the court but I do know at the back of my head that I have played a bit of a part and I do feel privileged to say, and I am proud to say, that I have been part of a change.
"I think what's very special is what the common people think about it, the public. If you look at it in perspective, it seems pretty small, winning a tennis match, in life.
"At the end of the day, though, it's amazing because it unites everyone together and for me to give this back to the country has been very special."
Mirza also found herself at the center of several controversies during her career.
Plenty of criticism came in 2005 for wearing a skirt on court – which is routine for female players – but that paled in comparison to the condemnation she received in 2010 for marrying former Pakistan cricket captain Shoaib Malik. Relations have long been tense between neighbors India and Pakistan.
"I've had a lot of controversies for a lot of different reasons," Mirza, who is Muslim, says. "The fact is I've come through it all, it's been a good learning experience. It's made me the person who I am today and it's made me a strong and very mature person."
She leaves tennis hoping that she has inspired her countrymen and women.
"I think India [has produced] some of our biggest superstars outside of cricket are women, whether it's in badminton, boxing or wrestling. It's the women that have brought more medals in the last couple of Olympics than the men have," she told reporters.
"I think that's what tennis brought to me in the last 20 years that I've given to it. It's also given me back twofold."