Buckeyes No. 1 seed in women's hockey tourney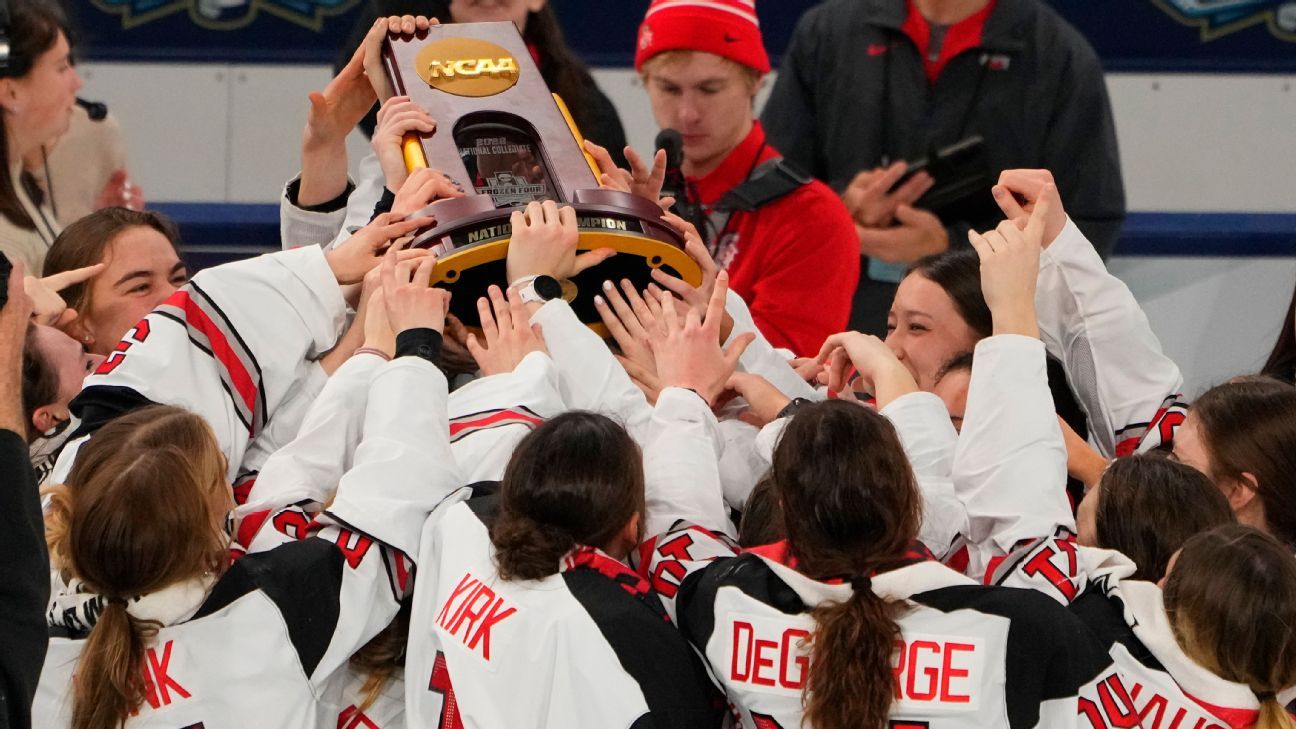 Ohio State will defend its women's college hockey title as the No. 1 seed in the 2022-23 NCAA women's ice hockey tournament.
The Buckeyes (31-5-2) took top billing during Sunday's selection show ahead of their fifth tournament appearance in program history. Minnesota (29-5-3) grabbed the No. 2 seed, followed by Colgate (32-5-2) at No. 3, Yale (28-3-1) at No. 4 and Northeastern (33-2-1) at No. 5.
In the single-elimination format, those top four seeds will host regional action from Thursday until Sunday.
The first round of regionals will feature Quinnipiac (29-9-0) taking on Penn State (27-8-2), Long Island University (20-13-3) against Wisconsin (25-10-2), and Minnesota Duluth (25-9-3) battling Clarkson (29-10-2), all on Thursday.
Winners will advance to face the first, second and third overall seeds in the second round — a regional final — on Saturday or Sunday. Yale and Northeastern will play each other Saturday as well.
Four teams will advance out of the regionals to the Frozen Four, taking place at the University of Minnesota from March 17-19.
This season is the second time an expanded field of 11 teams — up from the previous eight — will compete for a championship. Five schools (Penn State, Colgate, Northeastern, Long Island University and Minnesota) received automatic bids by winning their conference tournaments, with the remaining six at-large bids (Clarkson, Ohio State, Quinnipiac, Minnesota Duluth, Wisconsin and Yale) determined by the selection committee.
Ohio State will be the favorite again after defeating Minnesota Duluth 3-2 in last season's Frozen Four Final. The Buckeyes finished their regular season as first-time WCHA regular-season champions, led by star players Sophie Jacques and Jennifer Gardiner.
Minnesota — a six-time national champion — has its own top skaters, including Taylor Heise and Grace Zumwinkle, rolling. The Golden Gophers have a deep roster from top to bottom, and goaltender Skylar Vetter is having an especially good season.
Colgate is making its third tournament appearance following a tough quarterfinal loss to Yale in 2022. The Raiders have a strong attack up front helmed by senior forward Danielle Serdachny and her team-leading 22 goals.
Yale punched its first ticket into the field last season; it fell in the semifinals to Ohio State. The Bulldogs have been among the East's best and boast a top-notch goaltender in Pia Dukaric.
Northeastern just won its record 18th Beanpot, topping Boston College 2-1. It was a semifinalist in last year's tournament and has two players — Alina Mueller and Gwyneth Philips — who were top-10 finalists for the Patty Kazmaier Memorial Award.
Wisconsin and Minnesota Duluth won't have a bye into semifinal action, but both programs have long histories of success. The Badgers are six-time national champions, and the Bulldogs have earned five titles. Count on both teams to be formidable opponents in regional play.