Can't get to The Masters? Have a 'taste' of the tournament delivered instead | CNN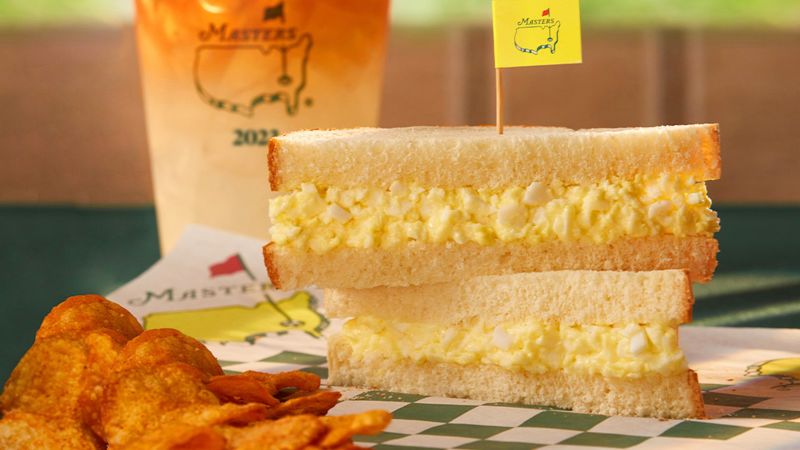 CNN
 — 

Getting tickets to golf's most prestigious event is, quite literally, a lottery.
Unless you happen to share a name with a pro golfer and are accidentally sent an invite by mistake (like one Georgia realtor), for most fans the best chance to attend The Masters is to try their luck in the annual ticket lottery.
It's a long shot to say the least, the golfing equivalent of Willy Wonka's golden ticket. But while thousands of golf fans won't be at Augusta National in April to see the major, they'll still be able to taste it – for $175.
Rebooted for 2023, the "Taste of the Masters" hosting kit can be ordered to homes across the US, allowing fans to unbox a range of Augusta concessions to serve up come tee-time.
Like strawberries and cream at Wimbledon, sandwiches have become synonymous with Augusta. Famed for their prices, which haven't changed for decades, the pimento cheese and egg salad sandwiches still retailed at $1.50 at last year's event and have become a staple of the major.
The pricing served as a stark contrast to some of the charges at the PGA Championship the following month, with eventual winner Justin Thomas "blown away" at the $18 and $16 asking price for beer and salad respectively at the major.
Both Masters sandwich fillings come in 24-ounce tubs as part of the kit, as well as pork bar-b-que. Bread and buns are not included, but 12 bags of potato chips and 12 cookies also feature in a bundle designed to serve 12 to 14 guests.
Souvenir cups (25), wax paper (12 sheets), and coasters (12) – all emblazoned with The Masters branding – round out the kit, which promises to arrive no later than April 7, the second day of the tournament. Shipping is US only, though excludes Alaska and Hawaii.
The kit was first announced for the 2020 tournament, when, according to Covid-19 protocols, tournament organizers prepared to stage the major with limited attendance.
It was not offered in 2021 but returned for last year's event, retailing at $150. The line-up featured the same three sandwich fillings, potato chips and cookies as 2022's offering, with the addition of pecan caramel popcorn.