First equality, then respect: Nelly Korda believes new-mixed team event is the 'perfect' next step to grow women's golf | CNN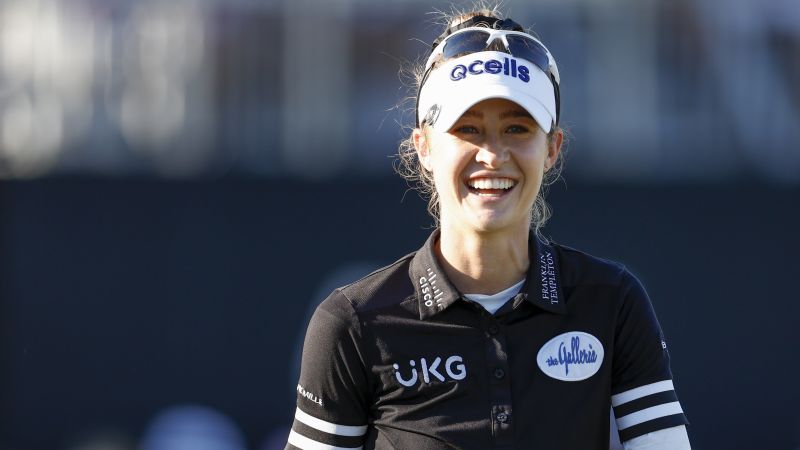 CNN
 — 

When Nelly Korda faced off against two of the PGA Tour's finest in December, she received rave reviews.
"It's a testament to these other ladies that anyone can even sniff beating her because that was wildly impressive," Max Homa marveled to reporters after he and Kevin Kisner faced Korda and Denny McCarthy at the QBE Shootout, a team-based unofficial money event on the PGA Tour.
Kisner, a four-time winner on the PGA Tour, was equally in awe of the women's world No. 2.
"I think I called her the Tiger Woods of the LPGA Tour at one point," Kisner added. "I asked her out there if she wins every tournament. She said 'No.' I'm like, 'I don't believe you.'"
When asked in January about the praise, Korda had one takeaway.
"That they should watch more women's golf," Korda, laughing, told reporters.
"They were very kind with their words towards me, but I think if they came out here and watched all the girls compete they would be equally impressed."
In December, the QBE Shootout will be replaced by The Grant Thornton Invitational, held at the same Tiburón Golf Club in Naples. It will see 32 players – 16 from the LPGA Tour and 16 from the PGA Tour – compete in a mixed-team event for a $4 million prize purse.
Not since 1999, when Laura Davies and John Daly paired to clinch the last JCPenney Classic, have the two tours co-hosted an annual mixed-team competition. Korda could not be more excited.
"It's something so different and so unique, I'm so grateful to be a part of it," she said.
Nelly Korda's first major title is a family affair
Part of Korda's enthusiasm stems from her belief that the event is the next step in the growth of the women's game – though the 24-year-old insists it is a marathon, not a sprint.
"Growing step by step, little by little, and learning from mistakes, I think the end result will make our foundation way stronger than immediately growing super-fast," Korda said.
"From where we were 10 years ago to what we are now, it's amazing to see how much we have grown and the respect that we are getting.
"You can have equality and you may still not have the respect from people. And I think once you gain the respect, everything kind of meshes into one and it becomes way greater than the equality."
Both Korda and her sister Jessica, the world No. 25, are set to team up with big names in the men's game, pairing with Tony Finau and Rickie Fowler respectively. With five PGA Tour wins apiece, they are regarded as two of the most talented golfers yet to win a major.
In Finau, Korda will play alongside one of the leading lights of Netflix's "Full Swing," a fly-on-the-wall show documenting the 2022 PGA Tour season. Episode six sees the American charm as a golfer working hard to balance his career with family commitments.
"He's such a nice guy, he's so sweet," Korda said.
"I'm sure everyone knows that now with the Netflix documentary that's come out about the PGA Tour and I've heard that his episode's a really big hit.
"I'm just excited to get to know him more and I think overall he's such a solid player. I'm really excited to compete alongside him."
But one team event is guaranteed to trump all others for Korda this season. In September, all eyes will be on Finca Cortesin Golf Club in Andalucía, Spain, for the Solheim Cup.
Pressure will be on the US Team to prevent a European three-peat, following defeat at Gleneagles, Scotland in 2019 and a home loss at Inverness Club, Ohio in 2021.
On the losing side on both occasions, Korda is out to taste Solheim Cup victory for the first time. With herself, her sister, Lexi Thompson, Danielle Kang, Lilia Vu and Jennifer Kupcho all enjoying strong seasons, US Team captain Stacy Lewis is spoilt for choice to pick her 12-player roster.
"At the end of the day golf is so individual that it's nice to have teammates and not just play for yourself, but play for them, play for your captain, play for your country," she said.
"It just brings in a new level of respect and it's so much fun. Every single time I have the opportunity to do that, I'm full of pride."
Ranked second in women's golf, behind New Zealand's Lydia Ko, Korda enjoyed a run of electric performances either side of the new year. Three consecutive top-six finishes to start 2023 continued a rousing end to 2022, which Korda closed with three top-10's – including victory at the Pelican Women's Championship in November.
After announcing in March 2022 that she would not be competing at the Chevron Championship due to a blood clot in her arm, she returned to action at the US Women's Open in May, just her fourth start of the season.
The defense of her title at the Pelican Women's Championship – her first LPGA Tour victory of the season and the eighth of her career – marked a cathartic moment for Korda, who was overcome with emotion after her win.
"2022 was a tough year at the beginning … to get the win at the end was super special to me," Korda said.
"Every year, you're striving to be your best self – on the golf course, as a player, as a person.
"If I can have fun and stay healthy, then I know that I can perform my best."