Irving: Need to scale back self-imposed pressure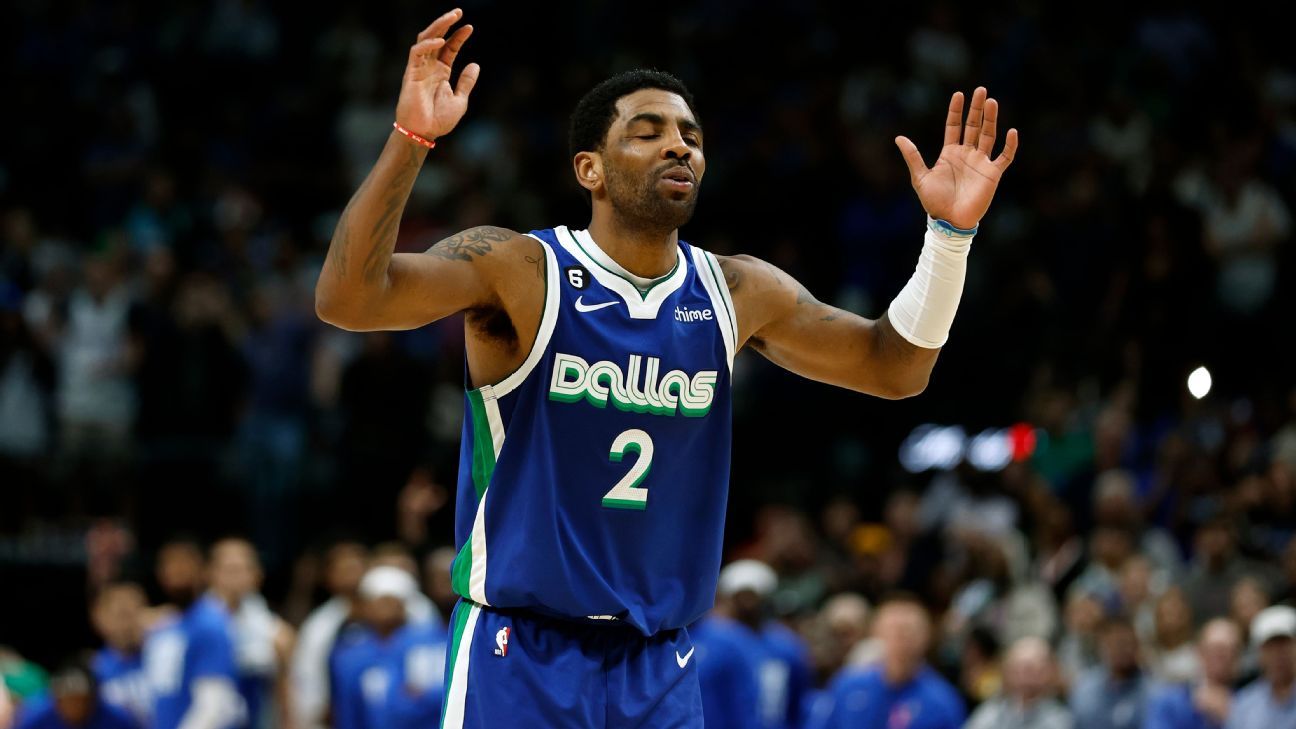 DALLAS — Once again, the Mavericks failed to finish with their pair of All-Stars on the floor together.
On this occasion, Kyrie Irving missed a contested step-back 3-pointer on the final possession of a 124-122 loss to the Indiana Pacers on Tuesday night. It marked the fourth time in five games that Irving has played alongside Luka Doncic and the Mavs lost, with all of the defeats coming by a one-possession margin — far from the boost Dallas hoped to get when it made the blockbuster deal with the Brooklyn Nets to acquire Irving.
"I just appreciate the coaching staff and my teammates trusting me with that shot and just the comfort they gave me afterwards," Irving said after the loss, which dropped Dallas to seventh place in the Western Conference standings. "Really want to win here, really put a lot of pressure on myself at times. I think I need to scale it back a little bit, just because the second half of the season, just feeling like we've got to be great every single possession, and usually these learning curves or learning moments happen in preseason, and it's happening now.
"So it definitely puts a glaring eye on what we're doing right and what we're doing wrong. Easy to criticize, but for us, I've just got to focus on being the best that I can be and showing up for not only Luka, but for my teammates."
The loss put a damper on Doncic's 24th birthday, but he took no issue with the play at the end of the game, when he watched from the corner as Irving isolated against Pacers guard T.J. McConnell.
"It was a good shot," said Doncic, who had 39 points, nine rebounds and six assists in the loss. "It's Kyrie. He can make a lot of those shots, and we trust him."
Irving has averaged 24.7 points and 6.9 assists in seven games with the Mavs, including a pair of wins that Doncic missed while recovering from a heel contusion immediately after the deal. But Irving hasn't shot well in Dallas' past two games, going a combined 15-of-40 from the floor in home losses to the Los Angeles Lakers (when the Mavs blew a 27-point lead) and the Pacers.
Irving acknowledged he's feeling pressure to perform after being involved in a high-profile trade and joining the Mavs as they're fighting for playoff seeding during the second half of the season.
"The last two games, I just haven't played with the fluidity of my game and just complementing others and just doing the little things to get us wins," said Irving, who had 16 points on 7-of-18 shooting and nine assists Tuesday night. "I mean, it's natural. It comes with it. And also, as a human being, I just naturally want to fit in with everybody and not step on anyone's toes.
"But the magnitude of the moments sometimes warrants special people to go up and beyond and do the extra things. I'm at that place now, but I think I just need to scale back and let the game come to me and flow into it, because when we're playing that tense, I can feel the intensity around me. I think I've just got to settle in and stay poised."
Irving is accustomed to playing alongside another superstar, something that Doncic is experiencing for the first time in the NBA. Irving won a title as LeBron James' sidekick with the Cleveland Cavaliers and joined the Nets as a free agency package deal with Kevin Durant.
The Mavs hoped that pairing Irving with Doncic would give them a chance to compete for a championship, but Irving doesn't believe he's held up his end of the bargain yet while playing with the NBA's scoring leader.
"It's the big business, baby," Irving said. "It's the big business. As much pressure as I put on myself, I have goals that I would love to accomplish, but all those are pushed to the side because I know I have 15 other guys on this team that are relying on me to do things that they've either seen me do or they're expecting me to do as one of the best players in the league. So sitting alongside Luka, I just have to show up to the party.
"I've been in situations in this league. Some have been failures, some have been successes, but over the last few years I've made it a goal of mine to just be stronger mentally, especially dealing with the rigors of this mentally, physically, emotionally. It'll come. It'll come."