Rory McIlroy hits 'impossible' shot despite first round struggles at Phoenix Open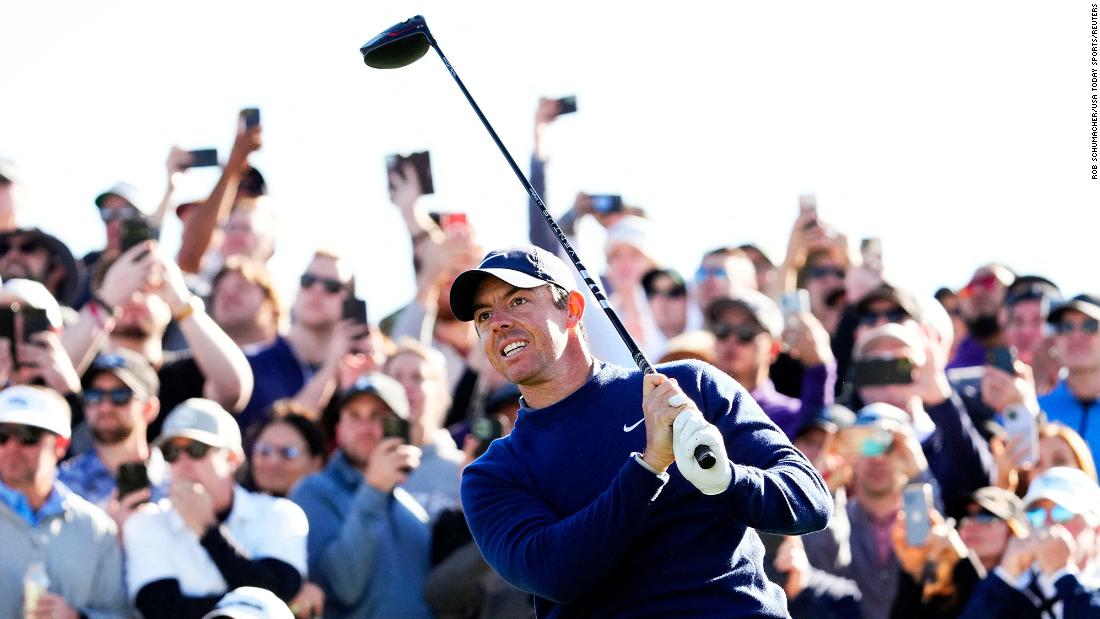 Even in the midst of an underwhelming opening round at the Waste Management Phoenix Open in Arizona on Thursday, the world No.1 found a way to add another slide to his near-endless highlight reel of remarkable shots.
Back-to-back bogeys either side of the turn at TPC Scottsdale had seen the Northern Irishman arrive at his 11th hole at one-over par, and his woes were immediately compounded when his booming, 337-yard tee drive went sailing over the path running down the right side of the fairway.
The ball's final resting place, lodged in the dirt close to a metal fence, made for grim viewing. With seemingly minimal room to swing, most golfers would have likely just settled for getting back on the fairway.
But as he has shown time and time again, McIlroy is not most golfers. With a chop of his pitching wedge, the four-time major winner punched his shot through a corridor of spectators and trees, the ball settling on the green just over 40 feet from the hole.
Incredulous gasps from the onlooking crowd were mirrored on social media, with the PGA Tour
tweeting
a video of the shot captioned: "Are you kidding[?]"
"Rory McIlroy has just played a shot that I would have been fairly certain was impossible,"
tweeted
Sky Sports golf reporter Jamie Weir.
McIlroy subsequently tapped in for four to walk away with par, an outcome he was more than happy with given the precarious position he had found himself in.
"It looked like I didn't have a backswing, but I didn't realize the angle, like how far right the green actually was," the 33-year-old told reporters.
"I got lucky with the tee shot that I had a swing, but I hit a great shot and was delighted to walk away with a par," he added.
A fourth bogey of the day on his 16th hole saw McIlroy card a two-over 73, leaving him tied for 82nd and seven shots adrift of Canadian leading pair Nick Taylor and Adam Hadwin, who impressed amid windy conditions in Scottsdale.
Having started 2023 with an
emotionally charged victory
at the Hero Dubai Desert Classic, McIlroy is looking to extend a remarkable run of seven consecutive top four finishes across DP World Tour and PGA Tour events.
The world No. 1 is in the form of his career, and knows it. Asked ahead of the tournament if he feels like he is the best player in the world, McIlroy was succinct.
"Yes," he replied.
Pushed to expand, McIlroy continued: "Because I do. I'm playing well. I feel like consistency-wise, I've been as good as I have been ever in my career.
"I said at the end of last year, I feel like as complete of a player as I ever have. If you just look at my statistical categories, there's no real glaring weaknesses there. I've worked really hard on that, to try to become a more well-rounded player."