SoCon's Furman into first NCAA tourney since '80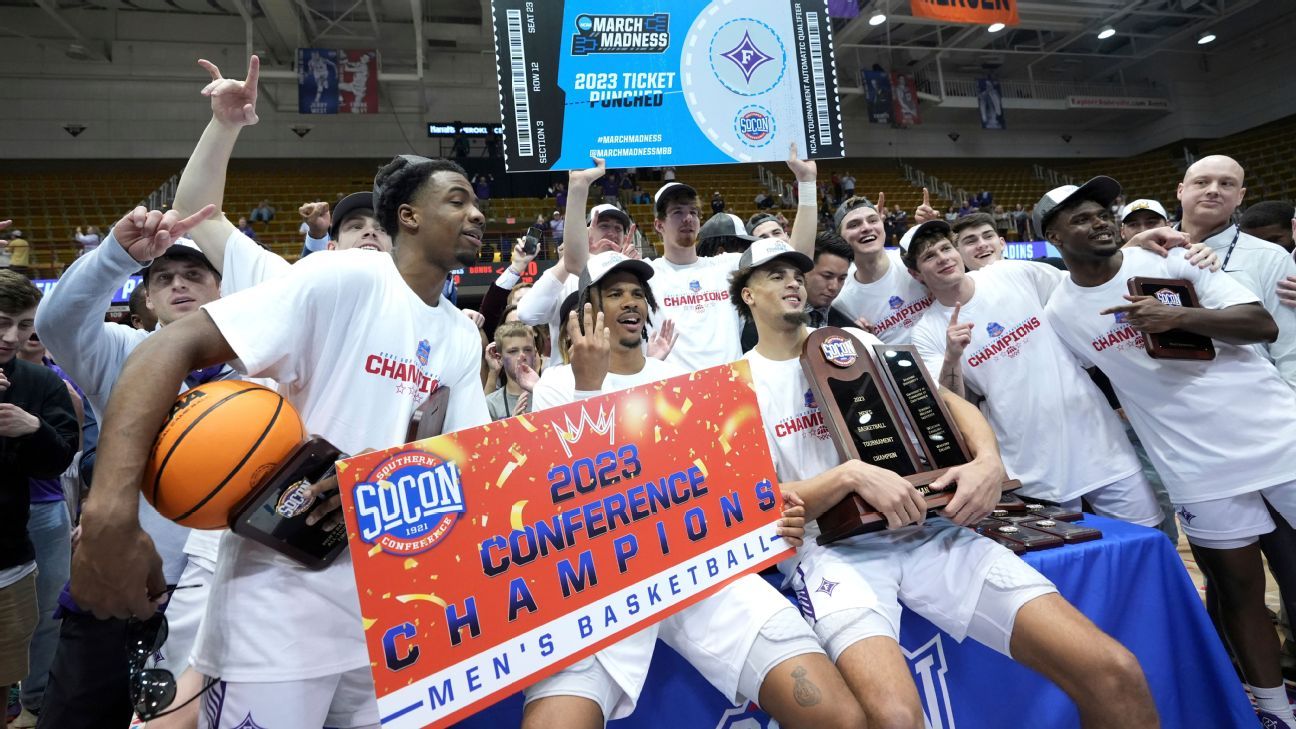 ASHEVILLE, N.C. — Jalen Slawson scored 20 points and Furman beat Chattanooga 88-79 on Monday night to win the Southern Conference tournament and advance to the NCAA tournament for the first time since 1980.
The NCAA field contained 48 teams the last time the top-seeded Paladins made the Big Dance. Furman coach Bob Richey had the Paladins on their way last season as the No. 2 seed until David Jean-Baptiste buried a 35-foot 3-pointer at the buzzer to rally top-seeded Chattanooga to a 64-63 victory.
Furman (27-7) took care of business this time around, although adding to the program's record win total didn't come easy.
Slawson had three baskets in an 18-0 run to give the Paladins a 23-7 lead nine minutes into the game. Chattanooga (18-17) was trailing 30-11 when A.J. Caldwell scored the final five points in a 13-0 spurt to pull within 30-26. Chattanooga twice cut its deficit to three, but a layup by JP Pegues gave Furman a 38-33 lead at halftime.
Chattanooga made a late run at the Paladins, using back-to-back 3-pointers from Jamal Johnson and Caldwell's layup to close to within 69-65 at the 5:02 mark — but the Mocs would get no closer.
Slawson made 8 of 12 shots from the floor with two 3-pointers for Furman. Pegues pitched in with 17 points despite missing all seven of his 3-point attempts and Mike Bothwell finished with 16 points, leaving him 10 shy of 2,000 for his career. Bothwell is trying to become the fifth Paladin to reach the 2,000-point plateau.
Jake Stephens paced Chattanooga with 25 points, 8 rebounds and 2 blocks. Johnson totaled 17 points and Caldwell posted his first double-double of the season with 14 points, 10 rebounds and 7 assists.
Furman made all six of its previous NCAA tournament appearances between 1971 to 1980. Its lone win was a 75-67 victory over South Carolina in 1974. They lost to Pittsburgh 81-78 in the Sweet Sixteen.
Chattanooga and former SoCon member Davidson have made the most NCAA tournament appearances in conference history with 12.