Which 16 teams should you buy or fade ahead of March Madness?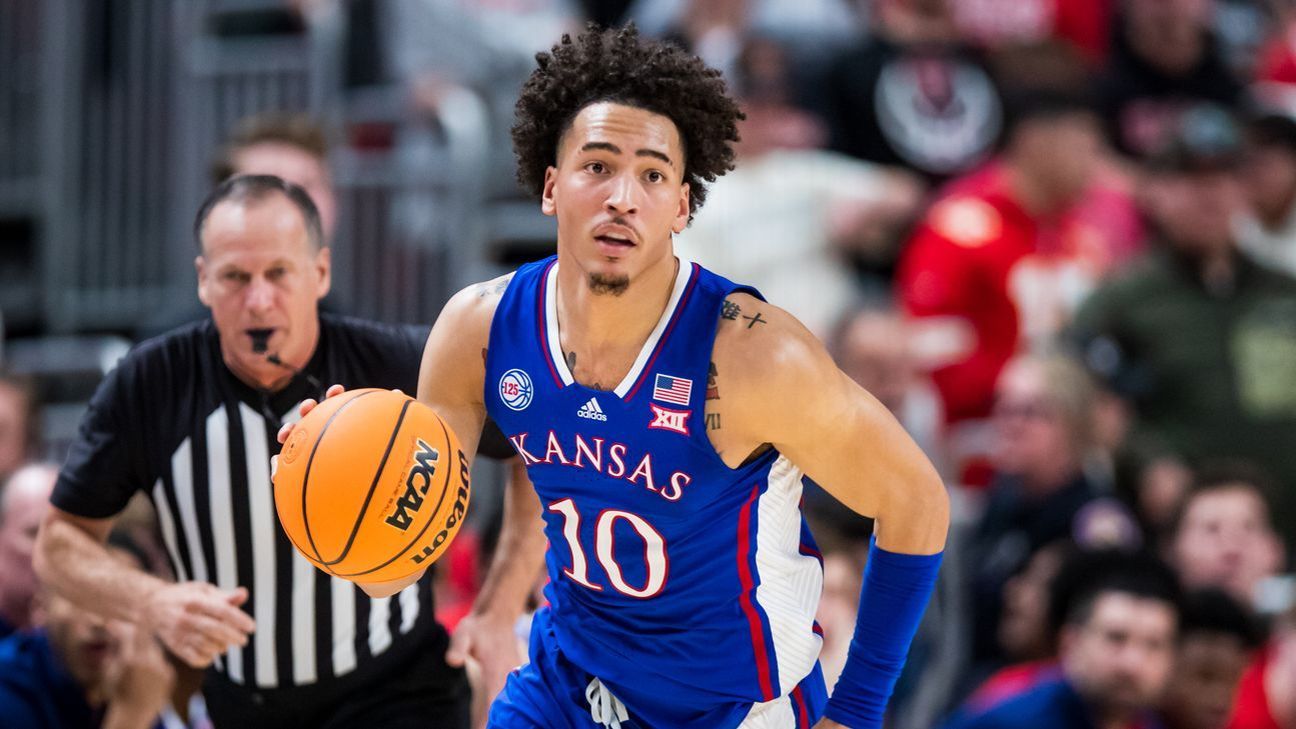 Let's run it back! Last year I wrote, "This is the deepest year in recent memory in terms of teams that can cut down the nets in New Orleans." Well, last year has been replaced by this year. And this may be the new normal with the transfer portal and democratization of talent across the country, we just may see more parity going forward. We know for sure that's the case this season. So where should your dollars go? We'll use the NCAA selection committee Top 16 reveal from last weekend to base our selections on who you should buy and fade, and who gets a sprinkle to cut down the nets in Houston.
Odds from Caesars Sportsbook
---
With the Brandon Miller situation this seems almost callous, so I'll keep it simple. Currently it appears Miller will continue to play for the Tide. If that's the case, they are one of my favorites to win it all with a both a high-level offense, defense and playmakers led by Miller.
Verdict: Buy
Houston is currently the betting favorite to win the NCAA championship and the Final Four is in its hometown. Over the past five years, the national champion has been top 22 in adjusted offensive and defensive efficiency per KenPom.com, so balance is critical. The Cougars have that, ranking top 10 in both categories. Defensively they are elite, physical and make opponents feel them on every possession. Offensively they've got high-level scorers and playmakers like Marcus Sasser, Jamal Shead, Jarace Walker and others. They've made runs to the elite last year and Final Four the year prior. Three of the four previously mentioned players were part of one or both those teams. Experience and guards matter.
Verdict: Buy
The luster has worn off for the Boilermakers, as they've struggled down the stretch. They still have the likely Wooden Award winner in Zach Edey, who is beyond difficult to guard. However, freshman guards Foster Loyer and Braden Smith have been exposed. They are both solid players, but they are young and can be pressured into turnovers and mismanagement of games. In general, the team also lacks athleticism. Purdue may make it to Houston but might not be able to beat the elite teams.
Verdict: Fade
No one has repeated as national champions since the 2006 and '07 Florida Gators. This Kansas team has proved it could do it. The Jayhawks have 14 Quad 1 wins while no other team in the country has more than 10.
Jalen Wilson would be the Wooden Award winner if not for Edey, and his supporting cast has rounded into form. DeJuan Harris is a key player for the Jayhawks when he's aggressive on offense, Grady Dick is one of the best freshmen in the country and Kevin McCullar an elite two-way player. All of that coupled with Bill Self and the experience of winning it last year, and the Jayhawks could run the table again.
Verdict: Buy

I think Texas is undervalued here. They're close to the recipe I mentioned before, ranked in the top 25 in adjusted offensive and defensive efficiency. They're an old team with lots of experience and have depth including Sir'Jabari Rice, who's the most productive sixth man in the country. They're also battling Kansas for Big 12 title, which is by far the most difficult conference in the country (eight or nine of the 10 Big 12 teams will be in the tourney).
Verdict: Sprinkle
I loved last year's Arizona team that fell short, and this year's team is a lesser version that has similar parts. Azuolas Tubelis and Oumar Ballo combine to make the best frontcourt combo in the country, but the Wildcats' guard play and defense are the issue. Kerr Kriisa, Pelle Larsen and Courtney Ramey are good players but lack defensive prowess. Arizona can score, but I think their defensive and guard deficiencies will be exploited as evidenced by stunning losses as double-digit favorites to Washington State and Arizona State at home.
Verdict: Fade
Baylor has the most dynamic backcourt in the country with Adam Flagler, LJ Cryer and Keyontae George. They're pro level scorers, entertaining and take and make so many tough shots. The problem is they don't defend well enough. While the Bears have solid bigs, that is not enough to make up for the lack of desire and efficiency when playing defense. This team could make a run to Houston, but taking the Bears to cut the nets down is just too lopsided.
Verdict: Fade
UCLA is very similar to Baylor, but with opposite problems. I love their parts. Tyger Campbell is an elite point guard, Jaime Jacquez is one of the most versatile, difficult-to-guard players in the country. The Bruins have role players and an elite defense but I don't trust them to score consistently enough. They play a slow tempo and can grind teams with their defense but can't endure the scoring struggles when playing high-level opponents this year. Playing them to get to the Final Four at +330 is solid, but I wouldn't pick them to cut down the nets,
Verdict: Fade
I'm so out on the Vols. Tennessee is an elite defensive team, ranked first in defensive efficiency but 64th in offensive efficiency. Everything is such a struggle on the offensive side. That's been illustrated recently, as the Vols have lost five of their past eight games.
Verdict: Fade
The Cavaliers are the team that has the biggest disparity between the AP/committee rankings and where oddsmakers see them. They're not an elite defensive team like years past and offensively they have to make their jump shots and don't have a guy who can create his own shot. Virginia is a solid team, but its ceiling is the Sweet 16.
Verdict: Fade
Iowa State is very similar to Virginia, but better defensively. They wreak havoc and create a ton of turnovers, but if they don't score off them, the Cyclones struggle to generate offense. They may win a few games in the tournament but they're not going to beat elite teams that have developed much more over the course of the season.
Verdict: Fade
Jerome Tang deserves to be the Coach of the Year this season. The Wildcats only had two scholarship players when Tang took the job in the spring and it's been astounding what he has done since. Markice Nowell and Keyontae Johnson are studs. Johnson has been one of the best stories in college basketball since his collapse on the court over two years ago while playing at Florida. That said, the teams that have figured out how to stop Nowell, have limited Kansas State at times. They still struggle against the really good teams in the country.
Verdict: Fade
Indiana is the Dr. Jekyl and Mr. Hyde of college basketball. They are a different team at home than they are on the road. That's not unique to them but they're good is really good and their bad can be really bad. Trayce Jackson Davis is a first-team All-American. Jalen Hood Schifino is a star freshman but has also been wildly inconsistent. Guard play wins in March and the Hoosiers don't have enough of it to win it all in March.
Verdict: Fade

Shaka Smart has done a tremendous job, and the Golden Eagles are great value here. They sit atop a very difficult Big East with a lead and three games ahead where they will be favored by at least six points (DePaul, Butler and St. John's). They have arguably the best point guard in the country in Tyler Kolek, score efficiently and exude the toughness of vintage Shaka Smart squads. Their defense is the issue and it's showed up in key games and moments. But at this price, Marquette is worth a little money.
Verdict: Sprinkle
This is not a Zags team of years past when they've had dominant and special players. This team doesn't have a top-5 pick on their roster but they still have one of the best bigs in the country in Drew Timme, a future NBA talent in Julian Strawther and a bunch of guys that still get buckets. They're first in the nation in Offensive Efficiency and are battled tested with wins over Xavier, Alabama (hanging 100 on the Tide in Birmingham), Michigan State and Kentucky with tough losses against Texas, Purdue and Baylor. Optional defense remains a concern so they won't cruise their way through most of the tournament like they have in recent years. However, Gonzaga is still capable of making a run without being Mark Few's best team.
Verdict: Sprinkle
Xavier has been good in Sean Miller's first year back at the helm but not good enough to win it all. They have struggled down the stretch without Zach Freemantle, meaning they likely will be a No. 5- or 6-seed. The Musketeers can score and Souley Blum is a terrific guard, but that's not enough with their defensive struggles.
Verdict: Fade
Bonus
I spoke about depth, so this could easily be a year similar to last where higher-seeded teams like Duke (6-seed) or North Carolina (8-seed) made their runs to the Final Four. So a few others to consider:
They had the most impressive start to the season with a 14-0 record and struggled in the midseason. They didn't guard at the level they were capable of, and their guard play can sometimes be erratic. However, the Huskies score in multiple ways with good bigs, creators and shooters. They rank in the top 10 in offensive efficiency and in the top 25 in defensive efficiency. Oddsmakers recognize their potential more than the rankings, and so do I.
Verdict: Buy
We thought Creighton would be a top 10 team in the country in the preseason. They hit a six-game midseason skid, mainly because their dynamic big Ryan Kalkbrenner missed three games. Kalkbrenner is back and healthy and provides size, rim protection and scoring. The Bluejays have dynamic guards and playmakers and won eight straight games before struggling recently losing three of their past four. I still believe they could put it all together as we've seen previously this year. I really like them to go to the Final Four but they're worth a little cash to shock us all and win it all.
Verdict: Sprinkle