World number one Novak Djokovic hopeful for 'a positive result' on US tournaments participation | CNN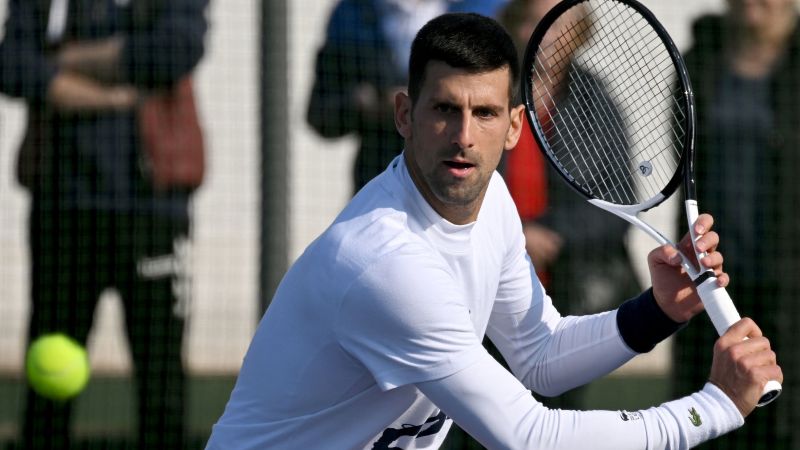 CNN
 — 

World tennis number one Novak Djokovic is hopeful for "a positive result" on US tennis tournament participation ahead of next month's Indian Wells and Miami Open tournaments, after applying for special permission to play there.
The United States still requires international visitors to be vaccinated against Covid-19, and the Serbian, who has previously confirmed that he remains unvaccinated, has now applied for special permission to enter the country ahead of both tournaments, which start on March 6 and March 20 respectively.
"Look, last year I did miss both Indian Wells, Miami and all the US Open swing," 22-time grand slam winner Djokovic told reporters in Belgrade on Wednesday.
"So it wouldn't be the first time if it does happen. I mean, I hope it doesn't, but that's all I can do. All I can do is hope at the moment because, you know, my position stays the same. There's not much else I can do except wish for a positive result," he said.
Casting an eye to the US Open grand slam at the end of August, the 35-year-old said: "Well, (the) US Open is still far away, you know, it's six months away. So I, I hope that I will be able to be there. I can't give you any additional answers really to that. You know, US Open is one of the four biggest events in the history of our sport. So, of course, I would love to be there.
"(I've) received the most beautiful reception and support (from) the New York and American crowd during the finals of 2021, that I, unfortunately, lost to [Daniil] Medvedev. But I experienced something that I never experienced in New York, so I really want to go back and connect with people even more and, hopefully, play the best tennis and eventually get another trophy there," the 22-time grand slam champion said.
When asked about whether the controversy regarding his Covid-19 vaccine stance has affected his tennis, Djokovic replied, "Well, I think (that) the recent results in Australia show that it doesn't affect my tennis much."
Djokovic returned to world No. 1 when he won a record 10th Australian Open last month. It was his 22nd major title, which tied him with Rafael Nadal for the most grand slam singles titles in men's tennis history.
This week, the 35-year-old achieved another milestone in his illustrious tennis career, equaling Steffi Graf's record for the most weeks as world No. 1.
Djokovic already holds the record for the most weeks as men's world No. 1, surpassing Roger Federer's mark of 310 weeks in March 2021, and on Monday, he drew level with German great Graf by beginning his 377th week in the top spot.
He next takes to the court at the Dubai Duty Free Tennis Championships, which gets underway on February 27.