Men's college basketball Power Rankings: Is UCLA the final 1-seed?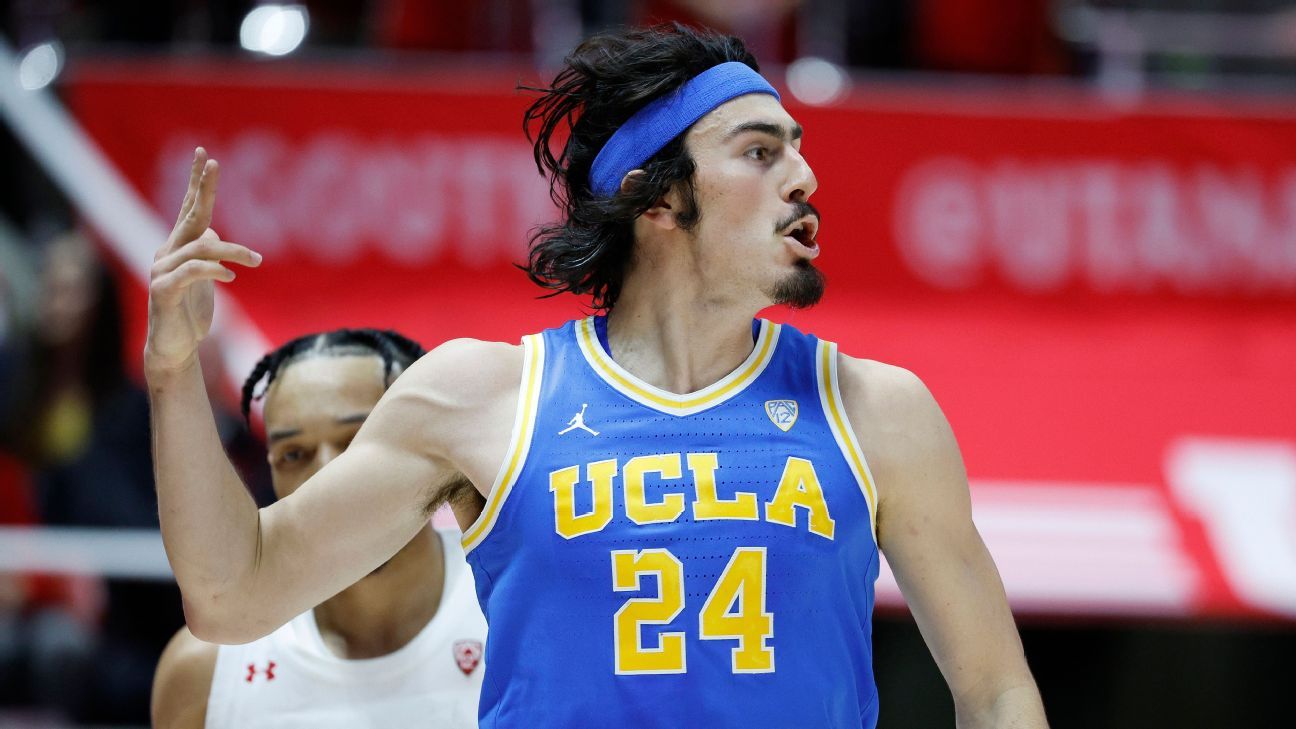 Is the debate for the fourth 1-seed — and the Nos. 4 and 5 spots in the Power Rankings — growing as we enter the final two weeks before Selection Sunday? Let's look at the first three 1-seeds: Alabama bounced back from its road loss at Tennessee with three straight wins, Houston hasn't lost in over a month and Kansas has a fool-proof résumé with its Quadrant 1 wins and strength of schedule.
After that, it's all up for grabs. Looking at last week's Power Rankings, No. 4 lost, No. 5 lost, No. 6 lost, No. 7 lost, No. 9 lost (twice) and No. 11 lost. A couple of weeks ago, it seemed far-fetched that Purdue could lose its grip on a 1-seed, even with a loss or two. But Saturday night's home defeat to Indiana was the Boilermakers' fourth in their last six games, which has obviously left them vulnerable to falling a few spots.
Arizona's loss to Arizona State was its fifth to a team ranked 50 or below in the NET. The other top Big 12 teams continue to go after each other: Kansas State beat Baylor, which turned around and beat Texas.
UCLA is the beneficiary of all the chaos. The Bruins don't have the noteworthy wins the rest of the top-seed candidates possess; their best wins are over Maryland and Kentucky back in December. But they've passed the proverbial eye test with their on-court performances, they're running away with the Pac-12 regular-season title — and the metrics love them. UCLA is No. 2 at KenPom, No. 4 in the BPI, No. 4 in Sagarin and No. 5 in ESPN's Strength of Record.
If Mick Cronin's team can take care of business at home against Arizona State and Arizona this week, they might enter the Pac-12 tournament in a very strong position to land the final 1-seed.
Onto this week's awards and rankings …
---
Eric Dixon and Mark Armstrong make clutch buckets in Villanova's upset of Creighton
Eric Dixon and Mark Armstrong make strong moves to the basket as Villanova defeats No. 19 Creighton.
It's taken three months longer than expected, but Villanova is rounding into form as it enters the Big East tournament. The Wildcats sat at 10-13 on Feb. 4 after a road loss at Creighton, but with Justin Moore fully healthy, this past week sent a message: Kyle Neptune's team will be a tough opponent at Madison Square Garden next week. Nova opened with a 64-63 road win at Xavier on Tuesday, with Moore hitting big shot after big shot down the stretch, notching 25 points to hold off the Musketeers. On Saturday, the Wildcats handled their business against the Bluejays from start to finish. They led by as many as 17 points in the second half and cruised to a 79-67 win. Moore had eight points and eight assists, but Saturday's star was Eric Dixon, who finished with a career-high 31 points and six 3-pointers.
Is it too little, too late for this team? Despite winning five of six, the Wildcats are still only 15-14. Even if Moore missed 20 games and star freshman Cameron Whitmore missed seven, the overall profile isn't good enough to garner NCAA tournament consideration. But if they win at Seton Hall and at home vs. UConn this week, and do some damage at MSG? It's not out of the realm of possibility.
Hood-Schifino's game against Purdue on Saturday night was one of the best big-game performances we've seen from anyone all season — and is more than enough to overcome the fact Indiana lost earlier in the week to Michigan State (Hood-Schifino had 16 points in that one). He was incredible against the Boilermakers, especially when factoring in it was a rivalry game on the road at Mackey Arena. The freshman guard finished with a career-high 35 points on 14-for-24 shooting, also grabbing seven rebounds and dishing out a pair of assists. He had 23 points at halftime and then hit timely baskets in the second half as Indiana extended its lead or halted Purdue's momentum. According to ESPN Stats & Information, he became the first Indiana freshman with multiple 30-point games since Eric Gordon in 2007-08.
Trayce Jackson-Davis has been the guy for Indiana all season, especially in Big Ten play, but with the big man struggling against Zach Edey, Hood-Schifino showed he can carry Indiana if needed.
Not only did this game feature the best ending of any game this past weekend, the rivalry win gave the Sun Devils, who entered the weekend in Joe Lunardi's "Next Four Out," their best win of the season. Defeating their in-state rivalry moved them to 4-3 against Quadrant 1 opponents and 9-8 against Quadrant 1 + 2 opponents. They still have games left at UCLA and at USC, and they're still on the outside looking in heading into those games, but Desmond Cambridge Jr.'s 50-footer at the buzzer keeps Bobby Hurley and Arizona State in the tournament conversation.
ARIZONA STATE WITH A BEYOND HALF-COURT HEAVE TO STUN NO. 7 ARIZONA 😱 pic.twitter.com/zQN6cmdkMA

— SportsCenter (@SportsCenter) February 25, 2023
Southern Miss did lose Wednesday at Old Dominion — which would normally disqualify a coach from earning this award. But the Golden Eagles bounced back Friday, winning at Texas State and clinching the outright Sun Belt regular-season title. This is arguably the most surprising conference champion in the country this season — the Eagles were picked 13th out of 14 teams in the preseason Sun Belt poll, just four points ahead of last-place UL Monroe. The lack of expectations wasn't a surprise: the Eagles went 7-26 overall last season in the Conference USA, winning just one league game. They won more overall games (25) and more conference games (14) this season than in the previous three seasons combined (24 and 10). Ladner coached his teams to wins at Vanderbilt and at Liberty in November, setting the stage for what would be one of the best regular seasons in program history.
Three teams with questions
Iowa State Cyclones: The Cyclones were a 3-seed in last weekend's mock bracket reveal, but it's hard to imagine they're anywhere close to that now. After losing by 11 at home to Oklahoma on Saturday, they're now 4-9 in their last 13 games, and drop to .500 in the Big 12 with 11 losses overall. They've scored fewer than 0.90 points per possession in each of their last three games.

Oklahoma State Cowboys: OSU was one of the hottest teams in the country from mid-January until mid-February, winning seven of eight. After this past weekend, though, it's teetering on the NCAA tournament cutline. The Cowboys have now lost four in a row, including Saturday's home defeat to Kansas State. Monday vs. Baylor looms large.
New Mexico Lobos: After being the nation's last unbeaten team at the turn of the new year, New Mexico will likely need to win the Mountain West tournament to have its name called on Selection Sunday. The Lobos lost at the buzzer to San Diego State on Saturday night, their sixth loss in seven games, dropping to 7-9 in the league. They're just 5-9 since opening the season with 14 straight wins.
---
Power Rankings
1. Alabama Crimson Tide (25-4)
Previous ranking: 1
This week: vs. Auburn (Wednesday), at Texas A&M (Saturday)
It wasn't a convincing week for the Crimson Tide, who needed overtime to win at South Carolina on Wednesday and then overcame an 11-point deficit to beat Arkansas on Saturday. There were a couple of similarities between the two games in terms of where they struggled. Offensively, Alabama wasn't making shots from the perimeter; it was just 7-for-27 from 3 against the Gamecocks, and 3-for-22 against Arkansas. South Carolina and Arkansas meanwhile shot a combined 14-for-31 from 3 against the Tide, a sharp increase from the 24.6% they've allowed in SEC play. This was also the first time since December they allowed more than one point per possession in back-to-back games.
2. Houston Cougars (27-2)
Previous ranking: 2
This week: vs. Wichita State (Thursday), at Memphis (Sunday)
Marcus Sasser is really hitting his stride at the right time. He entered 2022-23 garnering preseason All-American shouts, and while he's been one of the best two-way guards in the country, his scoring had taken a backseat compared to his 12 games played before his injury last season. That's changed in the last five games. He's scored at least 20 points in each, a threshold he reached just five times in the first 24 games of the campaign. In those games, Sasser's averaging 21.8 points and 3.2 assists, while shooting 50% from the field, 47.4% from 3 and 87.1% from the free-throw line. Assuming the ankle injury that sidelined him for a few minutes against East Carolina isn't serious, he's ready to be the go-to guy for the Cougars in March.
3. Kansas Jayhawks (24-5)
Previous ranking: 3
This week: vs. Texas Tech (Tuesday), at Texas (Saturday)
Jalen Wilson has gone through a few transformations this season. For a good portion, he needed to carry the Jayhawks' load, something he was rarely asked to do during his first two seasons in Lawrence. He was playing arguably his best individual basketball toward the end of January and in early February. With Dajuan Harris Jr. starting to look like an elite-level two-way point guard again, and Gradey Dick, Kevin McCullar Jr. and K.J. Adams Jr. finding consistency, Wilson is only averaging 12.2 points over the last six games. But Kansas might be at its best right now, and Wilson seems content in his role.
4. UCLA Bruins (X-X)
Previous ranking: 8
This week: vs. Arizona State (Thursday), vs. Arizona (Saturday)
UCLA clinched the Pac-12 regular-season title with a road sweep of Utah and Colorado, one of the tougher road swings in the league. While Jaime Jaquez Jr. and Tyger Campbell were the top performers in both games, as expected, freshman Adem Bona is also making his mark on the interior — and not just because he had one of the best blocks of the season to help seal the win over the Buffaloes. Bona had blocked multiple shots in four straight games, also grabbing seven rebounds in each of the last two. He's getting into foul trouble too often, committing 5.9 per 40 in Pac-12 play, but his explosiveness and ability to protect the rim will be an asset moving forward.
History made ✅

With their win tonight, @ZagMBB has won 25 games in a season for 16 consecutive seasons, an NCAA record. pic.twitter.com/ZwTbt1qm5J

— ESPN (@espn) February 26, 2023
5. Purdue Boilermakers (24-5)
Previous ranking: 4
This week: at Wisconsin (Thursday), vs. Illinois (Sunday)
The wheels have fallen off for the Boilermakers at the wrong time: They've lost four of their last six games, putting both the Big Ten regular-season title and a potential 1-seed in the NCAA tournament at risk. So, what's going on? For one, the freshman backcourt of Braden Smith and Fletcher Loyer is starting to hit a bit of a wall. Smith struggled to shoot against Indiana, scoring six points on 11 shots, while Loyer totaled 14 points in the three games leading up to Saturday's loss to the Hoosiers. Purdue's defense is also not as effective as it was most of the season. It's allowed at least 1.15 points per possession in three of its last six games, after not allowing a single opponent to hit that number in the first 23.

6. Texas Longhorns (22-7)
Previous ranking: 6
This week: at TCU (Wednesday), vs. Kansas (Saturday)
Texas' hopes for a share of the Big 12 regular-season title — and a potential 1-seed — aren't dashed yet. The loss at Baylor on Saturday obviously didn't help, but they still have to go to TCU on Wednesday and host Kansas on Saturday. If they can go 2-0 this week, they'll pull out at least a Big 12 tie, and enter the conference tournament with 11 Quadrant 1 wins. Could a run to the conference title game put them in the hunt for a 1-seed? They'll have to shore things up defensively, given they've allowed at least one point per possession in seven of their last 10 games.
7. Baylor Bears (21-8)
Previous ranking: 7
This week: at Oklahoma State (Monday), vs. Iowa State (Saturday)
Dale Bonner's triple extends Baylor's lead
Dale Bonner buries the 3-pointer from the wing to give the Bears a 60-43 lead in the second half.
Keyonte George's health is key for Baylor moving forward. He left Saturday's game against Texas with an ankle injury after playing just six minutes in the first half and didn't return. Scott Drew said after the game that he didn't know the extent of the injury, or a timeline for a return. Without George, Baylor leaned more on Langston Love and Dale Bonner. Love responded with 11 points off the bench, while Bonner had 13 points and four assists. Both have shown flashes this year when asked to contribute, when LJ Cryer (three games) and Adam Flagler (two games) missed time. Neither can replace George's combination of shot-creating ability and athleticism, but they can keep Baylor afloat on the perimeter.
8. Kansas State Wildcats (22-7)
Previous ranking: 13
This week: vs. Oklahoma (Wednesday), at West Virginia (Saturday)
Jerome Tang's team seems to be finding its rhythm. The Wildcats had lost five of seven games before last weekend and were just 5-5 since opening 2022-23 with 15 wins in their first 16 games. Since the disappointing road loss to Oklahoma — after which Tang questioned his group's effort — KSU rattled off three wins in a row and is performing better at both ends of the floor. It has held each of its last three opponents to below one point per possession, and Keyontae Johnson and Markquis Nowell have answered the bell at the other end: Johnson is averaging 19.0 points in his last three, Nowell 18.7 points and 7.7 assists.
9. Arizona Wildcats (24-5)
Previous ranking: 5
This week: at USC (Thursday), at UCLA (Saturday)
All five of the Wildcats' losses are to teams ranked 50 or lower in the NET entering the weekend. How does this keep happening? Each of those five opponents shot well from the perimeter, making 10.6 3s per game, with four attempting 25 shots from behind the arc. Oumar Ballo was also neutralized — he scored 11 or fewer points in four of the five losses, including seven points in just 18 minutes against Arizona State due to foul trouble. He did have 22 against Utah in December, but it's worth noting the Utes used 7-footer Branden Carlson to draw him away from the basket at the other end, making five 3s and scoring 22 points of his own.
10. Gonzaga Bulldogs (25-5)
Previous ranking: 10
This week: vs. Chicago State (Wednesday)
Saint Mary's actually got Saturday night's game in Spokane at its preferred pace — both it and the Feb. 4 matchup had exactly 62 possessions — but simply couldn't stop the Zags' offense. Gonzaga scored 1.24 points per possession, the most the Gaels had allowed since their NCAA tournament loss to UCLA last season. With Julian Strawther struggling and Drew Timme dealing with foul trouble, Mark Few turned to two experienced veterans to shoulder some of the load: Anton Watson had 17 points, 8 boards, 3 assists and 4 steals, while Malachi Smith had 13 points, just his fifth double-figure scoring game of WCC play. There's also this:
WHAT A BLOCK BY ADEM BONA!pic.twitter.com/Nb8UhtaScI

— Heat Check CBB (@HeatCheckCBB) February 26, 2023

11. Marquette Golden Eagles (23-6)
Previous ranking: 12
This week: at Butler (Tuesday), vs. St. John's (Saturday)
What an incredible coaching job by Shaka Smart this season. He took a Marquette team picked ninth in the Big East in the preseason all the way to winning the regular-season title. The Golden Eagles clinched at least a share of the championship with their win over DePaul on Saturday, and need just one more victory against two of the four worst teams in the league this week to clinch it outright. We talked about Kam Jones a couple of weeks ago, and how Marquette needed him to find his early-season form to reach its full potential. Well, in the two wins over DePaul and Creighton this past week, Jones averaged 20.5 points, 5.0 rebounds and shot 10-for-19 from 3.
12. UConn Huskies (22-7)
Previous ranking: 14
This week: vs. DePaul (Wednesday), at Villanova (Saturday)
UConn is looking much more like the team that ticked off 14 straight wins to start the season — just in time for its trip to Madison Square Garden for the Big East tournament, where the potential 5-seed might end up as the betting favorite. The Huskies are really clicking on the offensive end right now, coming off a week where they scored 182 points on 141 possessions, grabbing more than 50% of their misses and also shooting 19-for-46 from 3. Andre Jackson Jr. scored a career-high 15 points in two of his last three games, Joey Calcaterra found his shooting stroke against St. John's — but it's Jordan Hawkins who is this team's offensive catalyst. He's now scored 20 points in three straight games (and four of his last five).
13. Indiana Hoosiers (20-9)
Previous ranking: 15
This week: vs. Iowa (Tuesday), vs. Michigan (Sunday)
Jalen Hood-Schifino shines in Indiana's road win over Purdue
Jalen Hood-Schifino scores 35 points to lead Indiana to a big win over rival Purdue.
Did Indiana solve Purdue? It swept its rivalry series with Purdue on Saturday — only the second time it's beat a ranked Boilermakers team twice in the same season, according to ESPN Stats & Information. The other time was in 1992-93. The numbers from both of this season's games are fairly similar from a Purdue perspective. Zach Edey dominated on the inside, Fletcher Loyer had a relatively inefficient double-figure outing and nobody else did anything. The Boilermakers controlled the offensive glass, but really struggled to keep IU from scoring inside the arc. In the first game, home-court advantage was a factor. In the second, it was Jalen Hood-Schifino's star turn.
14. Tennessee Volunteers (21-8)
Previous ranking: 11
This week: vs. Arkansas (Tuesday), at Auburn (Saturday)
It will be interesting to see how the selection committee ultimately seeds the Vols. They've been something of a metrics darling, ranking near the top — and even taking over No. 1 temporarily in late January — of KenPom for most of the season, and still sit at No. 3 in the BPI. They have three high-level wins: Kansas, Texas, Alabama. But they've also lost five of their last eight, have three defeats outside Quadrant 1 and are just 9-8 against Quadrant 1 and 2 opponents. Their Strength of Record is just inside the top 20. If the committee values Tennessee's top-line wins and predictive metrics, a 3-seed is realistic. If it emphasizes other things, the seed could be lower.
15. San Diego State Aztecs (23-5)
Previous ranking: Unranked
This week: at Boise State (Tuesday), vs. Wyoming (Saturday)
Since Feb. 1, SDSU has had the best adjusted efficiency margin in the country at BartTorvik.com. The Aztecs rank No. 1 in adjusted defensive efficiency over that stretch, by some distance. The defensive efficiency gap between them at No. 1 and Mississippi State at No. 2 is as big as the gap between the No. 2 Bulldogs and No. 20 Iona. After some neutral-court hiccups in nonconference play, Brian Dutcher has his team in its usual spot: in the top 25, and atop the Mountain West. They've won 16 of their last 18 games, and their metrics back up the stretch of strong performances: top 20 at KenPom and in ESPN's Strength of Record.
16. Virginia Cavaliers (21-6)
Previous ranking: 9
This week: vs. Clemson (Tuesday), vs. Louisville (Saturday)
Virginia is in disarray right now, but the only reason it's still in the rankings is that every team around it — Miami, Xavier, TCU, Iowa State, Creighton, Saint Mary's, Northwestern — all dropped at least one game this past week. Tony Bennett's team has gone from a team nobody wanted to play in the NCAA tournament to one earmarked for an early round exit. The Cavaliers' offense has deserted them over the last couple weeks: In their last three games entering the weekend, they were averaging 55.3 points and 0.93 points per possession, shooting 37.4% from the field. Against North Carolina, they scored 0.94 points per possession, shot 39.7% from the field and made just four 3s.
Dropped out: Iowa State Cyclones (No. 16)
In the waiting room
Xavier Musketeers: After losing three of four, going to Seton Hall on Friday and winning by 22 should feel like a relief for the Musketeers. Colby Jones bounced back from his poor shooting performance against Villanova (four points on 2-for-10 shooting) to go for 19 points against the Pirates. A trip to Providence awaits Wednesday.
TCU Horned Frogs: Mike Miles Jr.'s return is getting most of the attention, and he did have 24 points against Texas Tech on Saturday. But JaKobe Coles has been a real factor since Eddie Lampkin Jr.'s injury, scoring in double figures in seven of his last nine games, averaging 12.1 points over that span. He also hit the game-winning free throws with four seconds left to beat the Red Raiders.
Miami Hurricanes: It should've been easy to get into the top 16 this past week, but the Hurricanes proceeded to blow a 25-point lead on their home court and lose to Florida State. They have a chance at a share of the ACC regular-season title, with current leader Pittsburgh coming to Coral Gables in the season finale. Still, Saturday feels like a missed opportunity.