Over 1,300 flights canceled as major winter storm threatens to produce historic snowfall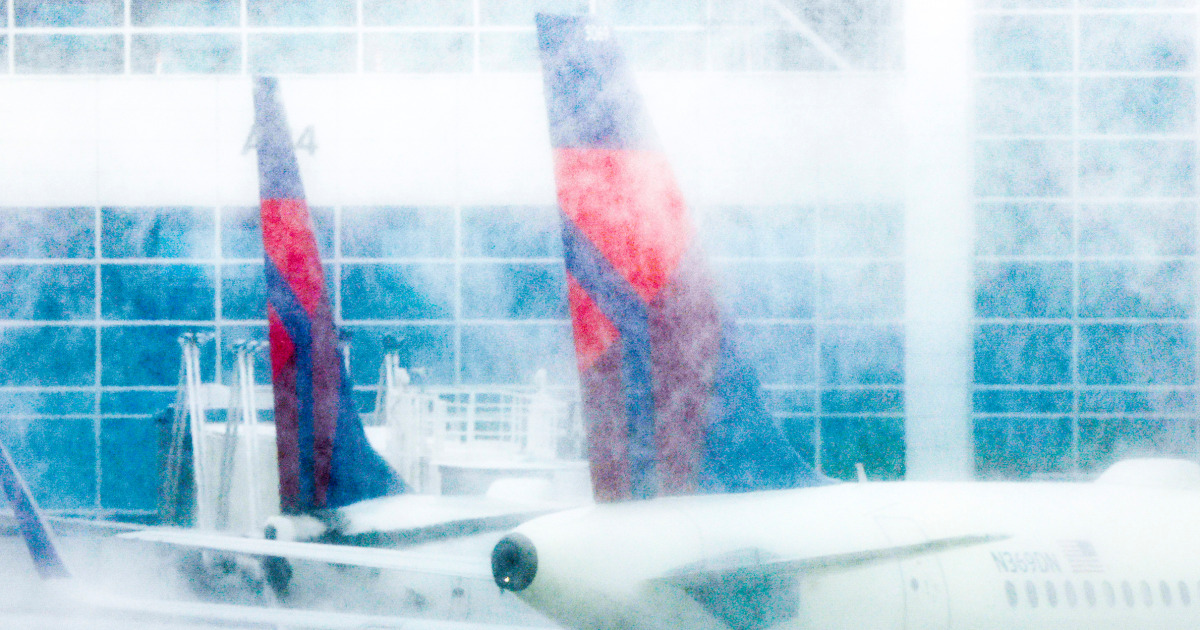 More than 1,300 flights within, to and out of the United States were canceled Wednesday as severe weather wreaked havoc with massive storms threatening to bring record snowfall across America.
Residents across the northern Plains will be hunkering down as the storm hits, with schools across the Dakotas, Minnesota and Wisconsin announcing closures ahead of the severe weather system, which is expected to impact millions while California contends with strong winds and sweeping power outages.
The National Weather Service issued winter storm, blizzard and high-wind advisories for swaths of the western and the northcentral U.S. in anticipation of the storm, with up to 2 feet of snow expected in some areas through Thursday.
Officials have also warned residents to stay off the roads due to potential "whiteout" conditions.
At least 1,765 flights, within, into or out of the United States, were delayed as of noon Wednesday, according to the online flight tracker FlightAware.
There were more than 1,318 U.S. flight cancellations by midday and at least 411 of those called-off journeys were related to Minneapolis−St. Paul International Airport. At least 226 cancellations were listed out of Denver International Airport.
'Numerous weather hazards'
The arrival of a large arctic air mass from Canada "interacting with an energetic upper-level pattern and multiple frontal systems forecast to move through the country this week will bring numerous weather hazards," the weather service said.
Widespread heavy snow is expected to continue across the West and the northern tier of the country, with total snowfall of 1 to 2 feet expected for most of the mountain ranges across the West, the agency said. The heaviest amounts of snowfall are expected to fall across east-central Minnesota and west-central Wisconsin, it said.
Wind gusts could also reach 50 mph, with wind chills expected to reach minus 50 degrees Fahrenheit in parts of the Dakotas and Minnesota, according to the weather service.
"As forecasts predict up to 20 inches of snow, I've directed state agencies, including @MnDPS_MSP, @MnDOT, and @MNNationalGuard, to take steps to prepare," Minnesota Gov. Tim Walz said in a tweet Tuesday.
A tornado tore through Mercer County in New Jersey at about 4 p.m. on Tuesday, according to the National Weather Service.
Most of the damage was at the Lawrence Square Village complex in Lawrenceville where 27 condo units left "uninhabitable," Mercer County spokesperson Julie Willmot said Wednesday.
Residents warned to 'limit travel'
"We're working to ensure we're ready — and Minnesotans have a part to play, too. Plan ahead, drive safe, and limit travel," he said.
"Snowplow crews will be out working statewide, but this storm could be a doozy," the Minnesota Department of Transportation said in a tweet.
Schools across the state also announced closures, with Minneapolis Public Schools saying on its website all its buildings would be closed "due to the upcoming winter storm."
"We will have e-learning days for all MPs students for the remainder of this week," the district said.
"The snow will begin to taper off to the north Wednesday and focus further south through Thursday," it said.
Heavy winds and power outages
California is also facing winter weather, with winds that began Tuesday expected to bring possible rain, snow and hail to parts of the state.
As of early Wednesday, tens of thousands of utility customers across the state were without power. More than 103,000 customers were affected by the outages by the start of Wednesday's work day, according to the online outage tracking website PowerOutage.us.
The weather service warned, "there will be little to no break from the active weather in California as another Pacific storm system is forecast to approach the coast late Thursday, with continued lower elevation rain/higher elevation snow chances."
Record warm elsewhere
Meanwhile, moderate to locally heavy rains, as well as some thunderstorms, are expected for lower elevations of the West Coast, with rain expected to spread southward from the Pacific Northwest on Wednesday to the California coast by Thursday.
As much of the U.S. contends with snow and cold weather, record warmth is expected to hit the mid-Atlantic and the Southeast.
The weather service said highs Wednesday to Thursday will soar into the 70s and 80s from the southern Plains east into the Southeast, the Midwest and the mid-Atlantic. "These highs on Thursday will be particularly anomalous for the Ohio Valley and Mid-Atlantic, where temperatures 40+ degrees above average will feel more like June than February."
The Associated Press contributed.