Over 170,000 without power, tornado sirens sound as winds hit Texas and South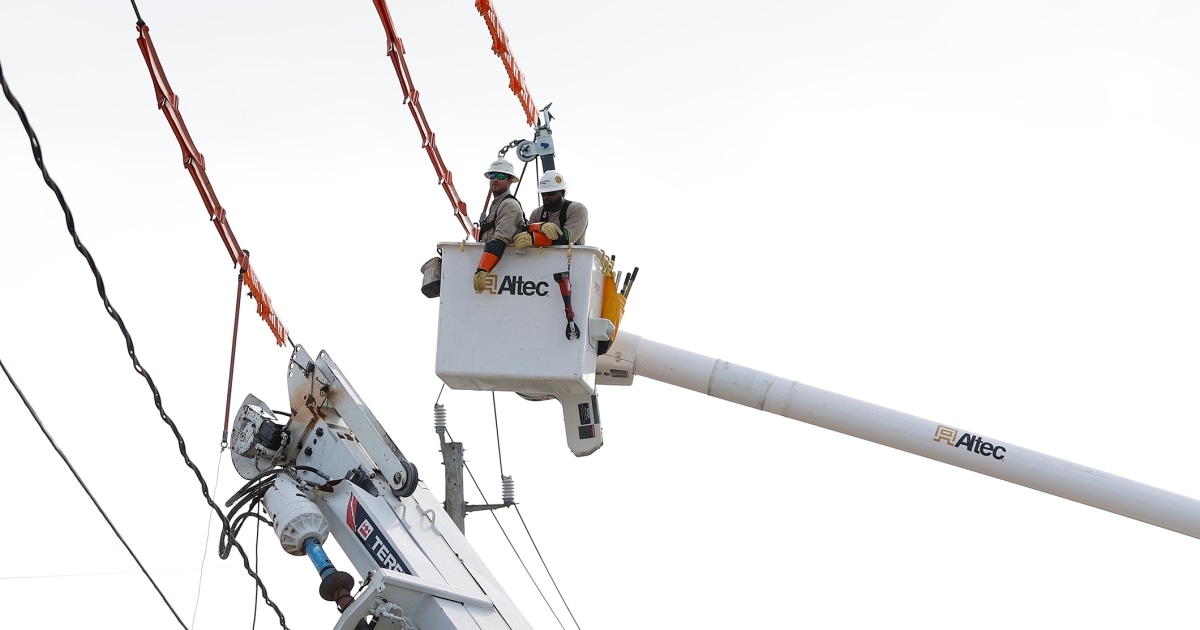 Tornado sirens sounded in Dallas and other parts of Texas on Thursday, and high winds overturned multiple tractor-trailers as severe weather struck parts of the state and others, officials said.
No deaths had been immediately reported. The Texas utility Oncor said more than 170,000 homes and businesses were without power Thursday night.
Tornadoes were reported in Franklin and Hopkins counties in Texas, which are east of Dallas, and in the Shreveport, Louisiana, area, the National Weather Service said. Storm surveys are done to confirm whether reported tornadoes actually occurred.
The high and damaging winds in parts of the southern U.S. occurred as mountainous areas of Southern California remained buried under feet of snow that has trapped people, authorities there said.
Gov. Gavin Newsom has declared a state of emergency for 13 counties, and the San Bernardino County Sheriff's Office said MREs would be flown by helicopter to affected communities. The California National Guard said Thursday that a UH-60 Blackhawk was being sent to help.
"We know that roofs are starting to collapse," San Bernardino County Board of Supervisors Chair Dawn Rowe, whose district includes some of the hardest-hit areas, said Wednesday.
Around 10 feet of snow fell in some of the mountain communities in the county, which is east of Los Angeles, the county fire department said.
Plowing was being done around the clock to try to clear roads, said the California Department of Transportation, known as Caltrans.
County Fire Chief Dan Munsey said Wednesday that the fire department had responded to almost 100 calls for rescue.
The National Weather Service said the snow total for Snow Valley in the San Bernardino Mountains was 120 inches, or 10 feet, from Feb. 22 to Wednesday. In Crestline, where a grocery store roof collapsed this week, it was 91 inches.
Andrew Braggins, 43, told The Associated Press that the ceiling in his kitchen in Crestline began to bow from the weight of all the snow, prompting him to shovel his roof — where 5 feet had accumulated.
"I've got friends just a few roads away, and they've been without power for days," Braggins said. "You can stock up for a storm. But this storm kind of kept coming."
Tornado watches covered around 3.5 million people in Texas and the South on Thursday night, according to the weather service. The watches stretched from east of Dallas into Arkansas and northern Louisiana.
By early Friday, watches had expired for Texas but tornado watches covered northern Louisiana, large parts of Missouri, and into Mississippi. The storm was forecast to move into the Ohio and Tennessee valleys Friday and then continue northeast, the weather service said.
Louisiana State University Shreveport suffered minor damage after a storm hit around 5:45 p.m. There were no injuries, but the winds were powerful enough that two shipping containers parked in a campus parking lot were moved, university Communications Director Erin Smith said.
The weather service in Shreveport said it would investigate possible damage areas in the region to see whether tornadoes had developed. Video shared by the agency appeared to show one in Shreveport.
NBC Dallas-Fort Worth reported that its crews spotted five overturned tractor-trailers on highways north and east of Dallas.