Rapper Nipsey Hussle's convicted killer sentenced to 60 years to life in prison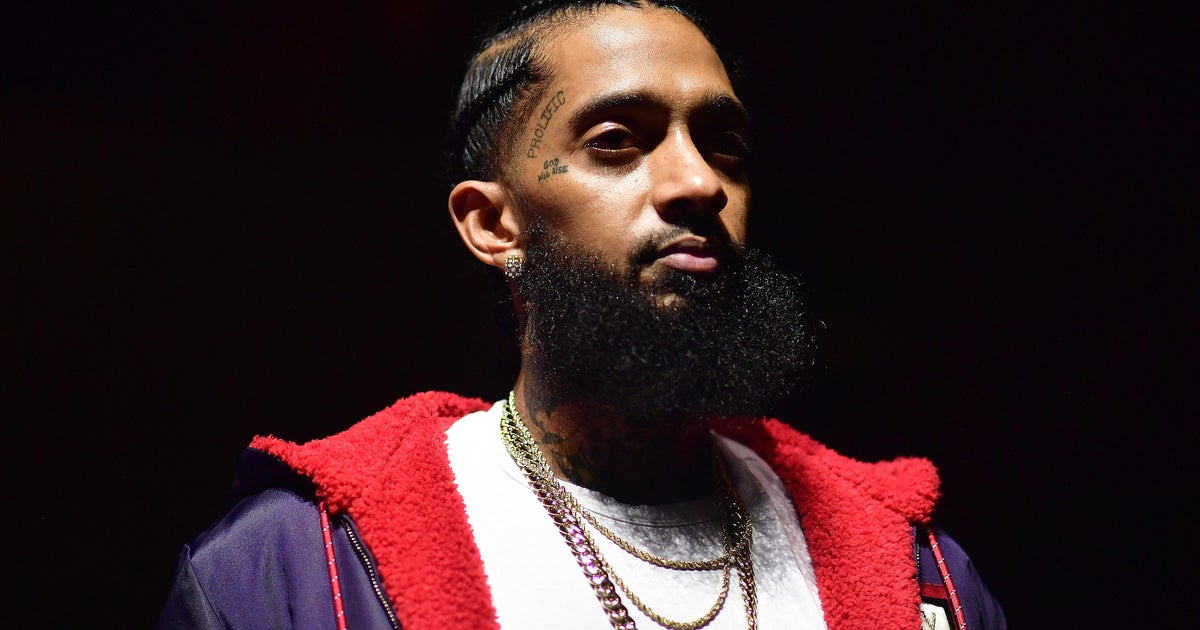 The man convicted of fatally shooting rapper Nipsey Hussle will serve 60 years to life in prison, a judge announced on Wednesday. His sentence, which came down as expected, followed several months of delayed hearings as the defense attorney, Aaron Jansen, pushed for a reduced conviction and filed a motion for a new trial. Los Angeles Superior Court Judge H. Clay Jacke denied both bids late last year.
Eric R. Holder, Jr., 33, was found guilty and convicted of murder in the first degree in July for shooting and killing Hussle, born Ermias Asghedom, outside of his Marathon clothing store in South Los Angeles in March 2019. Hussle was 33 at the time of his death. The murder conviction alone carries a sentence of 25 years to life in prison.
Two bystanders were also hit and wounded by gunfire during the shooting. Holder was convicted for his involvement on two counts of attempted voluntary manslaughter — a charge much less severe than first-degree murder. In December, the defense argued that Holder's conviction for the killing of Hussle should be reduced to voluntary manslaughter "to be consistent with the other two verdicts."
Prosecutors argued during the murder trial that the attack was premeditated, saying it was the culmination of a prior dispute between Holder and Hussle. Deputy District Attorney John McKinney said there was "no doubt" Holder planned to kill Hussle, and told the court that he shot the rapper at least 10 times and kicked him in the head before fleeing the scene, according to the Associated Press. Holder and Hussle were acquainted with each other for years prior to the fatal shooting, as both grew up aspiring rappers in South Los Angeles.
McKinney said the argument stemmed from Hussle hearing that Holder was a snitch and wanted to "clear that up," the AP reported. McKinney said the pair, along with two of Hussle's friends, had a "cool conversation" with Holder prior to the attack, noting Hussle didn't have any security with him when he visited his store.
Holder's attorney, Aaron Jansen, argued that the murder had not been planned and cited "heated passion" as reason for the attack, the AP reported. Jansen said Holder shot both bystanders accidentally.
After Holder's conviction in July, Los Angeles County District Attorney George Gascón praised Hussle, a Grammy-nominated artist, business owner, and community advocate whose death shook Los Angeles and sparked a wave of tributes from fans, celebrities and political leaders
"Nipsey Hussle was a beloved member of our community," Gascón said in a statement, noting that improved local education and violence prevention were at the forefront of Hussle's public platform, and he had already taken significant steps to address both issues prior to his death. 
"His legacy will continue to inspire our work," Gascón added.
In August, Hussle posthumously received a star on the Hollywood Walk of Fame, more than three years after the shooting. His Grammy-nominated record "Victory Lap," released in 2018, earned a double-platinum plaque on its five-year anniversary last week.
Hussle was also celebrated at the 2020 Grammy Awards with a touching tribute alongside basketball icon Kobe Bryant, who was killed in a helicopter crash 10 months after the rapper.