Sailor who died at Pearl Harbor finally put to rest over 80 years later
A sailor killed during the Pearl Harbor attack was laid to rest Thursday, over 81 years after the 1941 invasion.
Gunner's Mate 3rd Class Herman Schmidt was 28 years old when Japanese forces attacked the USS Oklahoma at Pearl Harbor in Hawaii.
Schmidt, along with over 400 other men from the USS Oklahoma, was initially buried as an unknown soldier. Only 35 of the men on the USS Oklahoma were identified immediately after the war. 
In 2015, analysts were cleared to exhume and identify the remains from the ship. As of September 2021, 346 sailors and Marines have been identified.
80 YEARS LATER, ILLINOIS SAILOR WHO DIED IN PEARL HARBOR ATTACK WILL BE LAID TO REST IN HOME STATE
Schmidt was identified in 2021 through a DNA sample from his only son, Michael. 
"I have mixed emotions," Michael, now 82, told The Washington Times.  "I thought it was fantastic that they did it."
The Navy awarded Schmidt full military honors during the ceremony. None of those in attendance knew Schmidt personally, but his great-nephew was there.
WORLD WAR II VETERAN CELEBRATES 100TH BIRTHDAY, REVEALS HIS SECRETS AND 'LIFETIME OF INSPIRATION'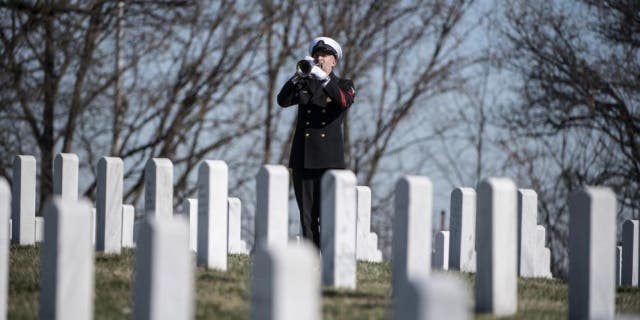 "The pride I feel — that I see people come out to support somebody they don't even know — it's just incredible," Gary Bishop, Schmidt's great-nephew, said. "It's humbling."
"We are here today because GM3 Herman Schmidt heard the call, and he stood the watch like everyone aboard the USS Oklahoma," Navy chaplain Lt. Cmdr. Robert Price said during the ceremony.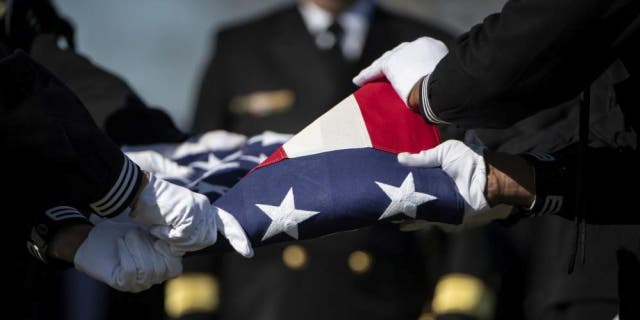 CLICK HERE TO GET THE FOX NEWS APP
"We never forget the sacrifice that people gave for us. This is personal for us because this is a sailor. This is one of ours."