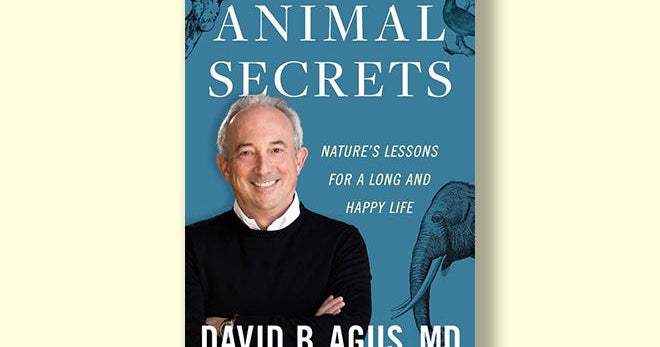 We may receive an affiliate commission from anything you buy from this article.
Could mankind learn how to treat or avoid diseases and afflictions, like cancer or Alzheimer's, by studying the evolution of animals?
In "The Book of Animal Secrets: Nature's Lessons for a Long and Happy Life" (to be published March 7 by Simon & Schuster, a division of CBS' parent company, Paramount Global), Dr. David Agus examines how the genetics, behavior and diet of animals has protected them in their environments – lessons that could be used to our advantage, if we'd pay attention to them.
Read the excerpt below, and don't miss Jonathan Vigliotti's interview with David Agus on "CBS Sunday Morning" February 26!
---
"The Book of Animal Secrets" by David B. Agus (Hardcover)
Prefer to listen? Audible has a 30-day free trial available right now.
---
Introduction
Look deep into nature, and then you will understand everything better.
—ALBERT EINSTEIN
What if, for the rest of your life, your body could be ten to fifteen years younger than your birth certificate says? What if you could safely edit your genes to avoid getting the Alzheimer's or heart disease that notoriously runs in your family? What if I could assure you that you'd never develop cancer or some rare, abominable illness with no meaningful treatment? What if you could know exactly which diet and exercise regimen to follow to stay lean and fit? What if you could avoid ever feeling depressed, achy, foggy, and "old"?
What if.
What if.
What if.
This book was born out of frustration. I read scientific and medical journals daily to stay ahead of all the latest developments and innovations. But I'm always somewhat dismayed as I follow the progress of medicine. We're having breakthroughs, no doubt about it. I'm seeing diseases that were once deadly now being managed for long periods of time. And yet when I learn about another species that has adapted in the same environment we have but has done so much better—an elephant that will avoid cancer in spite of its size, a giraffe that will never experience cardiovascular problems regardless of high blood pressure, a queen ant that can outlive its genetically similar comrades by a factor of eighty—I start to wonder what we can learn from those adaptations and how we can leverage them in our own lives to live longer, healthier, and happier. How can we hack our system?
You're about to find out.
This is a book about what we can learn from other creatures—those we love and those we detest and those we don't think about much—to inform our own health, longevity, and even ways of thinking and relating to others. Human evolution has happened over millions of years, and while we've been studying that, one of the things we've missed is that every other creature on earth has also been evolving, figuring out to how to handle threatening stressors, procreate, and thrive. Many have had vastly more time to perfect themselves and adapt to their and our environment. Many never get cancer, grow obese, suffer from anxiety and depression, contract infections, show symptoms of cardiovascular disease, experience glitches in their neurology like dementia or Parkinson's disease, become diabetic, fall ill with autoimmune disorders, or even develop outward signs of aging like thin gray hair, wrinkles, and arthritic joints. Some life-forms can hear without ears, see without eyes, remain fertile until death, regenerate lost limbs, revert to a younger stage in the life cycle, communicate with one another without speaking or even using what we'd consider language, and think without a brain.
Most of us don't often ponder evolution, but it is very much worth considering. Evolution can help us understand ourselves better and learn how to live better too. It can provide a framework for navigating what often appears to be a difficult, chaotic world; offer guidelines for making good decisions and accepting harsh realities; and explain both wellness and disease. This book will open you to a new perspective.
From "The Book of Animal Secrets" by David B. Agus, MD, with Kristin Loberg.  Copyright © 2023 by Dr. David G. Agus. Excerpted with permission of Simon & Schuster, a division of Paramount Global.
---
Get the book here:
Buy locally from Indiebound
       
For more info: