Bride and groom spend wedding day stuck in elevator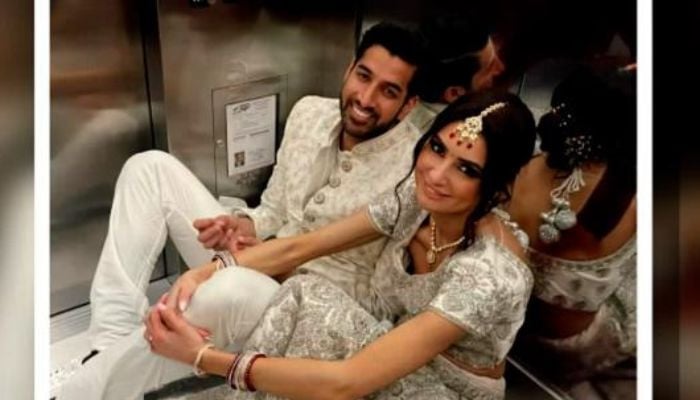 Panav Jha and Victoria Jha unexpectedly spent their wedding day confined in an elevator. 
The couple and four other members of their family, after getting done with the wedding ceremony on February 18 headed to their after-party on the 16th floor of the Grand Bohemian Hotel in Charlotte, North Carolina. 
The group encountered an unexpected plot twist as they became stranded between the first and second stories. The doors of the elevator became stuck after they had only risen around five feet, the groom told CNN.
"Then, the doors started to open, so I could see the concrete wall right in front of me, and I could see the concrete wall behind me. I was like, 'That's not normal.'"
The Charlotte Fire Department, fortunately, came to the rescue. 
Despite the fact that the firefighters claimed they frequently receive calls like this, this rescue was more difficult, reported bride.com. Firefighter David Budd explains, "We tried all the typical things you try on an elevator call, and none of the stuff was working."
When the team got there, they used ropes to hoist each passenger out of the top of the elevator one at a time so they could leave for the fourth story. The captain of Rescue 11 explained that they usually rely on the elevator repair team to help in such cases but also have their own tools to "make it work".
"We put them in what's called a hasty seat. It's just a simple seat that hooks around them and we hook them up to our rope rigging system," said captain Steven Pritchard.
The guest reportedly requested that the firefighters "bring my sister out next" after saving the first victim. All six of them were rescued two and a half hours later. 
Once the firefighters from North Carolina saved the group, they snapped a picture with the newlyweds and made a Facebook update about the mishap. 
"Mr and Mrs Jha, we hope today is the start of a long and happy life together," their social media post read.
The pictures show the bride wearing a lehenga with golden embroidery while the groom coordinates with a matching shirt.
Unfortunately, the newlyweds could not make it to the after-party. However, Victoria was glad that she did not get stuck alone. "At least we got to spend it together," she remarked.
Panav agreed, adding that it was a great story to share with the couple's future children. "I'm going to tell my kids your mom was so beautiful, the fire department had to come."