Greece tragedy: Protests continue as burial of victims begins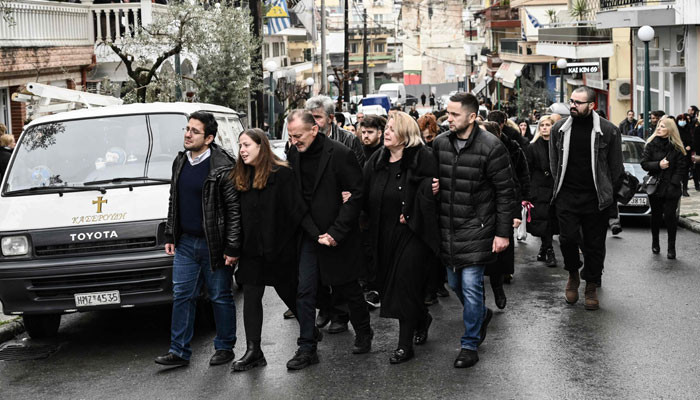 LARISSA: Demonstrators held more rallies on Saturday to protest the causes of Greece's worst-ever train disaster, as the first of the crash victims were laid to rest.
Thousands of protesters have taken to the streets across the country since Tuesday's collision between a passenger train and a freight train, which killed at least 57 people.
A court appearance for the station master implicated in the disaster was postponed by a day, and public anger is growing over the government's failure to ensure rail network safety.
More protests took place in several cities Saturday evening, with hundreds turning out in Athens and Thessaloniki.
A rally of students and railway employees has been called for on Sunday in the capital's Syntagma Square, next to parliament, which was the scene of clashes on Friday night.
The first burials of victims of the crash began Saturday, and relatives of the dead are expected to gather on Sunday for a memorial outside Larissa station near the site of the disaster in central Greece.
"What happened was not an accident, it was a crime," said protester Sophia Hatzopoulou, 23, a philosophy student in Thessaloniki.
"We can't watch all this happen and remain indifferent."
At least nine young people studying at Thessaloniki's Aristotle University were among those killed on the train, which was carrying many students returning from a holiday weekend.
'New elements' in case
The station master at Larissa, central Greece, whose identity has not been made public, has admitted responsibility for the accident, which saw the two trains run along the same track for several kilometres.
The 59-year-old had been due to appear in court on Saturday where he could face charges of negligent homicide, but will now appear on Sunday, his lawyer Stefanos Pantzartsidis said.
If convicted he risks life in jail, but Pantzartsidis has argued that other factors were at play. "In the case, there are important new elements that need to be examined."
Public broadcaster ERT reported that the station master had been appointed to the post, covering several stations, only 40 days earlier — and after just three months' training.
He was apparently working alone for four days at the station without a supervisor, according to the Kathimerini Daily, despite it being a holiday weekend with high demand and heavy rail traffic.
Legal sources have suggested that investigators are also considering criminal charges against members of the management of train operator Hellenic Train.
Police seized audio files and other items during a raid on the Larissa train station, a judicial source told AFP.
The government has also set up a committee to investigate the causes of the accident.
Kostas Genidounias, the head of the train drivers' union OSE, said they had already warned the authorities about safety failings on the line where the crash happened.
And union leaders at Hellenic Train sounded the alarm again just three weeks ago.
"We are not going to wait for the accident to happen to see those responsible shed crocodile tears," they said then.
Clean-up operation
Hundreds of people observed a minute's silence outside the Greek parliament on Friday, but riot police and a small group of protesters later clashed in central Athens.
At the rally in Syntagma Square, officers fired tear gas and stun grenades at protesters throwing stones and Molotov cocktails, an AFP reporter said.
A similar number demonstrated in Thessaloniki — Greece's second largest city — where police had reported clashes on Thursday with demonstrators throwing stones and petrol bombs.
Greece's train services were paralysed on Thursday by striking workers arguing that successive administrations' mismanagement of the network had contributed to the fatal collision. The strike continued into the weekend.
The clean-up operation was still under way on Saturday, with technical crews sifting through scattered debris and removing train carriages from the site.