Macron announces China visit for Ukraine peace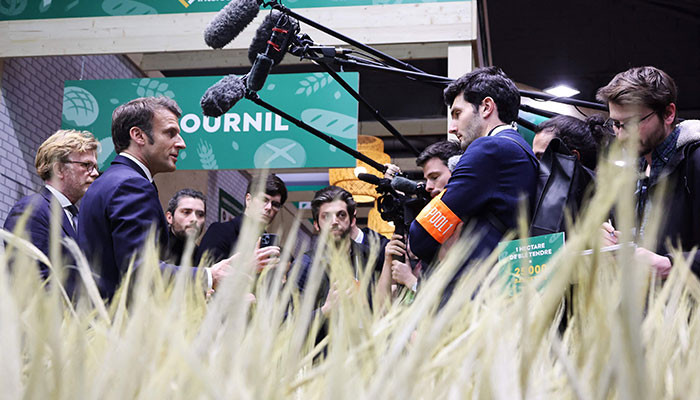 Macron to visit China in April.
China presented position paper for peace in Ukraine on Friday.
Ukraine's Zelensky hopes to meet his Chinese counterpart Xi Jinping.
---
KYIV: French President Emmanuel Macron said he would visit China in April and urged it to pressure Russia to end the war in Ukraine, a day after Beijing presented a peace plan.
China has attempted to maintain a neutral stance while retaining close ties with strategic ally Moscow, publishing a 12-point position paper on Friday that called for urgent peace talks and a "political settlement" to end the conflict.
Ukrainian President Volodymyr Zelensky on Friday also expressed hopes to meet Chinese counterpart Xi Jinping, calling it "important for world security".
Macron on Saturday said he would visit China in "early April" and urged Beijing to help "put pressure" on Russia to end the war.
"The fact that China is engaging in peace efforts is a good thing," Macron said on the sidelines of an agricultural show in Paris, in reference to the position paper.
Peace was only possible if "Russian aggression was halted, troops withdrawn, and the territorial sovereignty of Ukraine and its people was respected", he added.
Earlier on Saturday, the Chinese foreign ministry said Belarusian leader Alexander Lukashenko would pay a state visit from February 28 to March 2 at the invitation of President Xi.
A long-time ally of Russian President Vladimir Putin, Lukashenko allowed his country to be used as a launchpad for Moscow´s invasion of its pro-Western ally on February 24 last year.
Kyiv has expressed concerns that Belarus could again support Moscow in its war effort, with the countries announcing the creation of a joint regional force last October.
Chinese foreign minister Qin Gang told his Belarusian counterpart Sergei Aleinik that Beijing is willing to work with Minsk to deepen mutual political trust during a phone conversation on Friday, the Chinese foreign ministry said in a statement.
China will also continue to support Belarus in maintaining its national stability and will oppose attempts by "external forces" to interfere in its internal affairs or impose "illegal" unilateral sanctions on Minsk, Qin told Aleinik.
Diplomatic rifts exposed
The diplomatic rift between Beijing, Moscow and the West was exposed on Saturday as G20 finance ministers failed to adopt a joint statement on the global economy after China sought to water down references to the Ukraine war.
Russia said the United States, the European Union and the G7 "destabilised" the talks in India by trying to impose their "diktat".
The Chinese position paper urged all parties to "support Russia and Ukraine in working in the same direction and resuming direct dialogue as quickly as possible".
It also made clear its opposition to the use and threat of deploying nuclear weapons, after Putin threatened to use Moscow´s atomic arsenal in the conflict.
Several Western powers rebuffed the proposals and also warned against Beijing´s close ties to Moscow. China has denied a claim by US Secretary of State Antony Blinken that it was "considering providing lethal support" to Russia.
Macron urged Beijing "not to supply any arms to Russia" and sought Beijing´s help to "exert pressure on Russia to ensure it never uses chemical or nuclear weapons and it stops this aggression prior to negotiations".
Zelensky on Friday did not specify when or where talks with Xi would happen but expressed hope that China would support a "just peace" in Ukraine and that Beijing would not supply weapons to Russia.
On the ground, the head of Russia´s Wagner mercenary group said his forces had captured another village on the outskirts of the frontline city of Bakhmut in eastern Ukraine on Saturday.
Yevgeny Prigozhin claimed the capture of Yagidne, a short distance from central Bakhmut, which has become a key political and symbolic prize in the battle to control the eastern Donbas region.