Malala attends first Oscars in sequin-covered hooded gown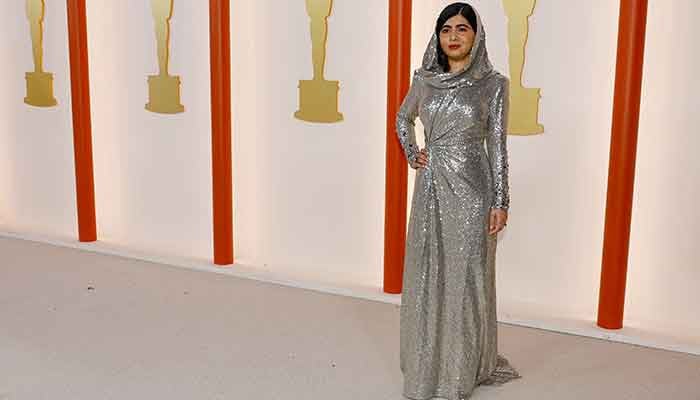 Pakistani female education activist and Nobel laureate Malala Yousafzai Monday made her debut appearance at the Oscars along with her husband, Asser Malik. 
The activist attended the event in a dazzling sequin-covered hooded gown by Ralph Lauren. The silver-coloured dress had long sleeves and cinched detail on one side of the waist, Harper Bazaar reported. 
The highlight of Malala's dress was her accessories. Keeping it simple, the 25-year-old paired her dress with pendant earrings in platinum, a silver diamond ring and a gold ring. She wore minimal makeup and completed her look with a pop of red on her lips. 
On the other hand, Malik looked dapper in a black tuxedo with a white shirt, bow tie and black loafers. 
Taking to Instagram, Malala said that she wanted her dress to represent the message of her film Stranger at the Gate and embody hope. 
"It was all a dream I wanted my dress to represent the message of our film @strangeratthegate and embody hope. Thank you so much to the brilliant team that helped bring my vision to life," wrote the activist. 
"I was proud to represent this amazing documentary with the director Joshua Seftel, producer Conall Jones and the film's inspiring subjects Bibi and Mac. And, as always, I was delighted to spend the night with my husband Asser Malik, looking handsome as ever in his tux," she said. 
Her movie was nominated in the Best Documentary Short Film category. The 29-minute-long film is about a former US Marine who goes to war and is deployed to Iraq and Afghanistan.