Pakistani police fire tear gas into Imran Khan's home as defiant former leader resists arrest | CNN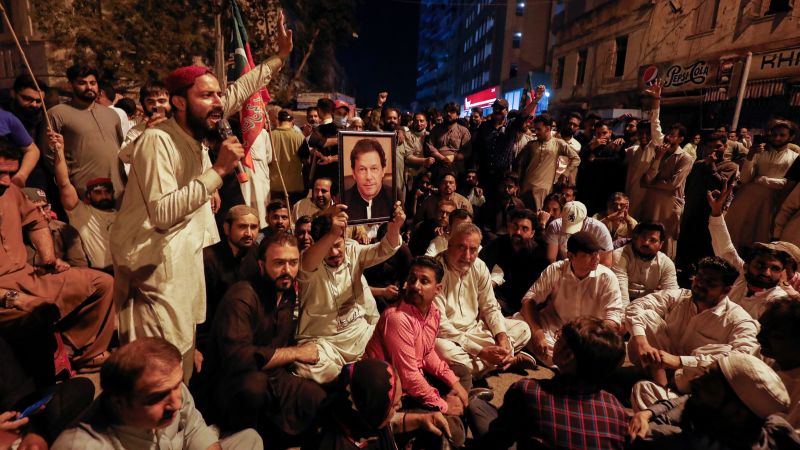 Islamabad, Pakistan
CNN
 — 

Pakistani police fired tear gas into the grounds of Imran Khan's Lahore home on Wednesday following a night of violent clashes between security personnel and the former prime minister's supporters as attempts by authorities to arrest him stretched into a second day.
A total of 69 people have been injured in the violence in the eastern city so far, including 34 police officers, a Pakistani police official told CNN on the condition of anonymity, adding that people inside Khan's residence were armed with guns.
The clashes erupted Tuesday after police arrived at the property to arrest Khan for failing to appear in court on corruption charges.
Footage shared by Khan's Pakistan Tehreek-e-Insaf (PTI) party and local media showed police firing tear gas and water cannons at Khan's supporters on Tuesday in an effort to disperse them. The former prime minister's supporters threw stones in return, according to a tweet from Islamabad police.
Protests also broke out in major cities across Pakistan on Tuesday in support of Khan, who released a video on social media asking his followers to "come out" in support of his movement if he is detained.
Khan, who was ousted in a parliamentary no-confidence vote last April, has since led a popular campaign against the current government, accusing it of colluding with the military to remove him from office. He has accused Pakistani authorities of attempting to arrest him to remove him from upcoming by-elections in April and a general election scheduled for October.
"[The government], they're petrified that if I come into power, I will hold them accountable," Khan told CNN on Tuesday. "They also know that even if I go to jail, we will swing the elections no matter what they do."
The former leader says the charges against him are politically motivated and has warned that attempts to arrest him could lead to a dangerous escalation in political violence in the country. He also believes that Pakistan's ruling coalition might eventually use a "pretext of violence" to delay the upcoming votes.
In a statement to CNN, Pakistan's information minister denied any political involvement in the case.
"The government has nothing to do with the arrest (of Khan), and the arrest has nothing to do with elections. The police is only complying with the orders of the court," Marriyum Aurangzeb said.
"Instead of cooperating with law enforcement officials, Imran Khan is breaking the law, defying court orders and using his party workers as human shields to evade arrest and stoke unrest," she added.
As clashes escalated Tuesday, police cut the electricity supply to Khan's home and turned street lights off in the wider Zaman Park neighborhood, according to Khan's spokesperson and other backers.
"We are ready to face all kinds of fascism to protect Imran Khan," Musarrat Cheema, a former spokesperson for the Punjab government, wrote on Twitter. "The entire nation stands with Chairman Imran Khan."
Khan faces allegations of illegally purchasing and selling gifts given to him by foreign dignitaries while he was in office, which he has rejected as "biased."
On Monday, the Islamabad High Court issued an arrest warrant against Khan over the case to have him presented before the court on March 18.
"On the order of the court, the person who ran away from the court will be arrested and arrested and produced there," tweeted Pakistani Interior Minister Rana Sanaullah on Tuesday.
But Khan's lawyers have argued he has previously failed to appear in court because he cannot leave his residence in Lahore due to security concerns. He can only make appearances via video link, according to his legal team.
The political upheaval comes at a time when Pakistan's government waits for a delayed bailout from the International Monetary Fund, which will help with the country's cost of living crisis and ailing economy.
Khan has only been arrested once in 2007 by then President and military ruler Pervez Musharraf, who died earlier this year.
But he told CNN Tuesday that he was "mentally prepared to spend the night in a cell."
"I want a proper warrant of arrest and I want to see that, my lawyers want to see the warrant," Khan said.
"It's a matter of time. I'm convinced they will come in and arrest me, I'm prepared for it," he said, adding: "I know what the intention is. They want to get me out of the race. They want to get me out of the match so that they can win the elections."