Polls closed but a day later Nigerians were still voting in the presidential election | CNN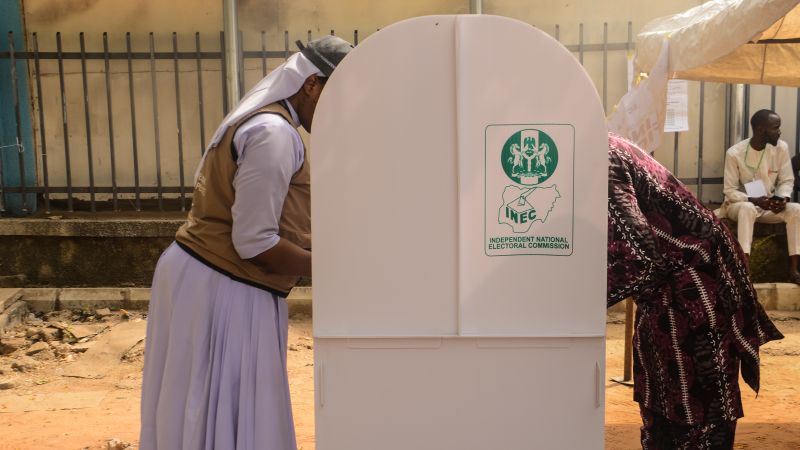 Lagos, Nigeria
CNN
 — 

How do you stage elections for more than 93 million voters? With great difficulty, headaches, delays and technical issues, it turns out.
More than 24 hours after the polls closed, some Nigerians were still voting in Africa's largest democratic exercise.
The numbers are staggering; Nigeria has 176,606 polling units and voting passed without incident in most of them.
However, it was overshadowed by widespread reports of delays, technical issues, and attacks and voter intimidation at some polling stations.
A CNN team in Lagos saw voters still trying to find a way to cast their ballot Sunday at a school in Lagos where two polling units didn't get to vote in Saturday's elections.
In the capital Abuja, voting continued until late on Saturday, as voters used car headlights to help themselves see.
When a CNN team visited some polling units, dozens of voters were still waiting to cast their ballot. In parts of Lagos, voting went on well into midnight.
The election is one of the most hotly contested contests since the end of military dictatorship in 1999, and the two-party system that has dominated Nigerian politics since then is facing an unprecedented threat.
The frontrunners are Bola Ahmed Tinubu of the ruling APC party, Atiku Abubakar from the PDP and Peter Obi from the lesser-known Labour Party.
Obi, 61, has gained in popularity and is seen as the third force candidate that could emerge as leader.
Many of his supporters, mostly first time voters, who registered in huge numbers to vote, complained of attempts to suppress their vote.
At one polling unit in Lekki, Lagos, several people were attacked.
Dr. Chidi Nwagwu told CNN: "I arrived at around 10am. Polling materials were late and we set up to start voting. Some thugs arrived and started hitting people with chairs. I was hit several times with a chair. There was a doctor who helped us. A lot of women were attacked, including a pregnant woman. She was knocked to the ground and they smashed her phone."
Alicia Gberikon said: "There was harassment and if you had a phone that was a crime. People were beaten and had their phones smashed. It was very scary."
Yiaga Africa, a non-profit civic group that deployed 3,836 observers across the country said it was disappointed with the elections. "There's a sense of disappointment, quite frankly, with the way this process has gone. Clearly, we've not overcome and resolved, perennially our logistical challenges with elections," Samson Itodo, Yiaga's Executive Director told CNN.
This was supposed to be the year that the electoral commission would provide real-time results via its new portal, iReV.
Yiaga said it was concerned that as of Saturday 10pm local time, when results were known from thousands of polling units, they had not been uploaded to the electoral commission's voting portal.
"It raises a lot of questions about the entire process because it deviates from the guidelines for the elections. But it also casts doubt on the integrity of this entire process," Itodo said.
"To make matters worse, the commission is not speaking or has not spoken to Nigerians."
The chairman of the electoral commission (INEC) Chairman Mahmood Yakubu briefly addressed the country at a media briefing on Sunday where he explained the collation process but did not address the issues around results transmission.
Yakubu reported there were pockets of violence across the country and electoral machines known as Bimodal Voter Accreditation system (BVAS) were lost in some of those disruptions.