Selena Gomez praises 'girl crush' Bella Hadid years after feud rumours over ex The Weeknd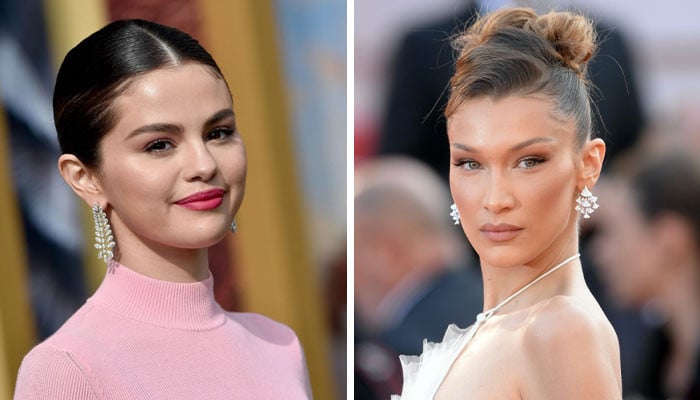 Selena Gomez has seemingly put end to feud rumours with Bella Hadid with her latest shout-out on social media platforms.
On Tuesday, February 21st, 2023, shared a series of videos and photos to her Instagram Story and TikTok appreciating fellow ex-girlfriend of The Weeknd, via E! News.
Using a viral audio of the 26-year-old model saying, 'So my name… my name is Bella Hadid,' the Hand to Myself singer lip-synced to the audio. She added her own note about the model written on the screen, "I wish I was as pretty as Bella Hadid."
The next clip showed Gomez sans filter, explaining, "Instead, this is me. I accidentally laminated my brows too much."
"My name is Selena Gomez," she added in a sultry tone. "See, it doesn't even sound sexy."
She then posted a modelling shot of Hadid, 26, from 2022 photo shoot with Vogue captioned, "#girlcrush."
The Only Murders in the Building actress' expression of adoration comes after the pair sparked speculation of a feud back in 2017.
Hadid had unfollowed the Good For You singer after she was spotted kissing Abel Tesfaye, known as his moniker The Weeknd, who Bella split from a few months prior after over a year of dating.
In 2019, Gomez and Hadid began unfollowing, refollowing and unfollowing each other on Instagram, sparking the speculation that the duo was beefing with each other. Hadid still does not follow Gomez on social media, though the actress does follow her and her sister, Gigi Hadid, via People Magazine.
Tesfaye dated Hadid from April 2015 to November 2016. He then struck up a romance with Gomez in January 2017.
A heartbroken Hadid opened up about her "first" and very "public" breakup the following month, telling Teen Vogue, "As an outsider, you might think I handled it so well, but it's always in your heart, and you always feel it very heavily. It'll be hard for a while. Love hurts, but you have to pull through."
Tesfaye and Gomez called it quits in October 2017.